INVESTOR'S INFO OF DECEMBER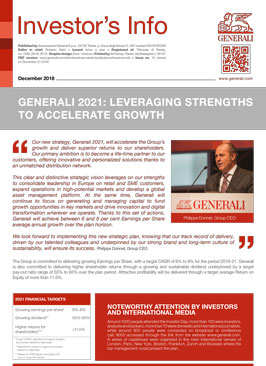 Generali 2021: leveraging strengths to accelerate growth
Our new strategy, Generali 2021, will accelerate the Group's growth and deliver superior returns to our shareholders. Our primary ambition is to become a life-time partner to our customers, offering innovative and personalized solutions thanks to an unmatched distribution network. This clear and distinctive strategic vision leverages on our strengths to consolidate leadership in Europe on retail and SME customers, expand operations in high-potential markets and develop a global asset management platform. At the same time, Generali will continue to focus on generating and managing capital to fund growth opportunities in key markets and drive innovation and digital transformation wherever we operate. Thanks to this set of actions, Generali will achieve between 6 and 8 per cent Earnings per Share average annual growth over the plan horizon. We look forward to implementing this new strategic plan, knowing that our track record of delivery, driven by our talented colleagues and underpinned by our strong brand and long-term culture of sustainability, will ensure its success.
Philippe Donnet, Group CEO
INVESTOR'S INFO OF MARCH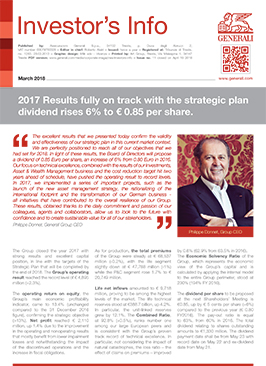 2017 Results fully on track with the strategic plan dividend rises 6% to € 0.85 per share
The excellent results that we presented today confirm the validity and effectiveness of our strategic plan in this current market context.
We are perfectly positioned to reach all of our objectives that we had set for 2018. In light of these results, the Board of Directors will propose a dividend of 0.85 Euro per share, an increase of 6% from 0.80 Euro in 2016. Our focus on technical excellence, combined with the results of our Investments, Asset & Wealth Management business and the cost reduction target hit two years ahead of schedule, have pushed the operating result to record levels.
In 2017, we implemented a series of important projects, such as the launch of the new asset management strategy, the rationalizing of the international footprint and the transformation of our German business - all initiatives that have contributed to the overall resilience of our Group.
These results, obtained thanks to the daily commitment and passion of our colleagues, agents and collaborators, allow us to look to the future with confidence and to create sustainable value for all of our stakeholders.
Philippe Donnet, Group CEO