The "The second violinist" won the Fedora - Generali prize for Opera
Awarded the co-production of the lead companies Wide Open Opera and Landmark Productions from Dublin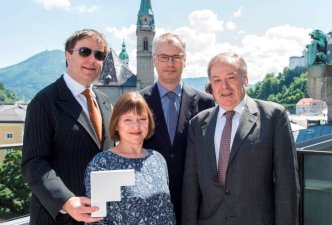 Fostering talent, creativity and innovation in the opera production. This is the aim of the FEDORA - Generali Prize for Opera, which awarded 'The Second Violinist' by Donnacha Dennehy and Enda Walsh.
The opera, an Irish co-production with England and the United States, will be performed on the 26, 27, 29 and 30 of July at the Black Box Theatre of Galway (Ireland) as part of the Galway International Arts Festival.
Generali Group supports musical awareness and talented artists engaged not only in preserving and transmitting musical heritage but also in creating new innovative productions. For this reason Generali supports for the second consecutive year FEDORA – The European Circle of Philanthropists of Opera and Ballet, in order to promote talent and creativity through the recognition of new opera productions.
FEDORA operates in close collaboration with Opera Europa - the Professional Association of Opera Houses and Festivals in Europe, a leading professional network that represents more than 170 opera companies and festivals in 43 European countries.
Philippe Donnet, CEO of Generali Group, stated: "Generali is actively involved in promoting culture and musical heritage and supporting creativity, talent and innovation. We are proud to support this partnership with FEDORA, bolstering a new generation of talented artists in order to guarantee the future of the opera in Europe, fueling new productions and sharing this heritage with the community".
The prize recognizes talented international co-production teams that collaborate in the creation of new works, made by artists with different musical backgrounds. FEDORA enhances the staging of recently created, rediscovered or never before performed operas and ballets. The purpose is to preserve and guarantee the dissemination of musical heritage, as well as to promote the ongoing creative development of young talents and of this form of art.
https://thesecondviolinist.ie/
For more info about FEDORA please click here: www.fedora-circle.com