Simone Bemporad awarded as "2018 Communicator of the Year"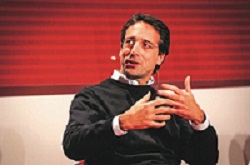 Simone Bemporad, Director of Communications and Institutional Affairs of Assicurazioni Generali, won the Ischia Prize for "2018 Communicator of the Year", for the communication strategy for "The Human Safety Net" project in Venice.
The Ischia Prize is one of the oldest and most prestigious awards dedicated to journalism and communication in Italy.
The prize is certainly deserved as, "Simone Bemporad created a complex, integrated communication strategy to relate the important actions taken by Generali in the heart of Piazza San Marco in Venice, connecting them to a wide range of corporate social responsibility initiatives, from the fight against poverty to start-ups created by refugees. The media success was remarkable, with dozens of articles and significant press coverage, both nationally and abroad. And the initiatives are truly innovative from the communication perspective, including the use – as "communicators" – of Generali's 70,000 employees and 200,000 agents."