Generali wins the Global Innovator Award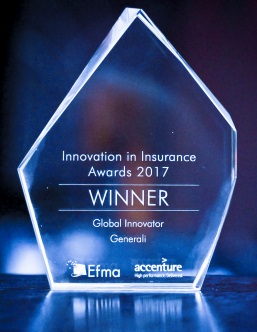 Generali has been rewarded with the Global Innovator Award at the second annual Efma-Accenture Innovation in Insurance Award held in London.
Among more than 200 submissions from 144 organizations in 38 countries, Assicurazioni Generali has been awarded by the judges for its strong focus on innovation in all the projects submitted together with Generali Italia, as a further recognition for the path that the Group has undertaken in rethinking insurance in a simpler and smarter way.
The contest – launched by Efma, a global non-profit organisation facilitating networking between decision-makers and Accenture, a leading global professional services company – aims to celebrate and promote innovation in the industry, encouraging insurers to explore new ways of growing their business.
In particular, the Global Innovator Award is dedicated to the company that stands out as the most innovative insurer, considering its commitment to continuous innovation and transformation, to the development of partnerships extending beyond insurance sector and to the exploitation of emerging technologies that improve the experience of its customers and the performance of its business.