Generali presented The Age of the Lion in Milan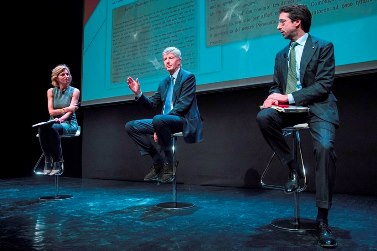 On 25 January 2017, Assicurazioni Generali presented the new edition of "The Age of the Lion" to over 500 university students at Triennale of Milan.
The volume gives a pictorial account of the nearly-bicentennial history of Generali – one of the greatest insurance companies in the world. The presentation – by Generali Chairman, Gabriele Galateri di Genola, Generali Group Director of Communications and Institutional Relations, Simone Bemporad, and the Chairman of the association "Friends of the Triennale" Elena Tettamanti – took place at the same time as students of Milan's main universities were handed "Friends of the Triennale" cards. The initiative gives young people free entry to Triennale exhibitions and activities, facilitating access to cultural education on design, architecture and contemporary art.
The initiative, supported by Generali and taken up by thousands of students, demonstrates the positive impact of collaboration between the Triennale and private institutions and it provides an opportunity to spread awareness about the cultural and historical impact of Generali, which has played its role in Italy and across Europe for nearly two centuries.