Generali.com ranked European best insurance corporate website
Italy was the best European Country in the 2016/17 Webranking Europe 500 from Comprend, the annual ranking of online corporate communication of the European most important stock quoted companies.
Generali's corporate website generali.com reached an amazing 4th position – with 83,4 points, following Snam, Wärtsilä and ENI – up 2 positions from last year and up 19 from two years ago, consolidating a long journey towards transparency, content quality, stakeholder dialogue. In fact the Webranking protocol is based on the real demands of various key stakeholders (capital markets' analysts, job seekers, digital managers), so that really it works as a stress test that measures the fundamentals of online corporate communications and digital dialogue. This is particularly significant if we consider that the Insurance sector is one of the best performing ones among the various industry sectors.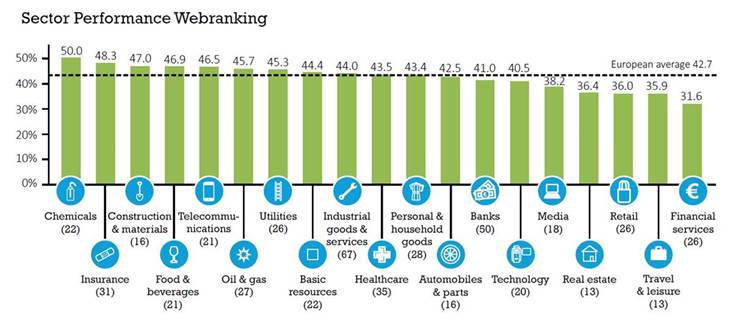 Source: Webranking by Comprend 2016-2017. The European ranking includes the 499 largest companies by market cap listed on European stock exchanges. The companies are categorised in 19 super sectors based on the ICB (Industry Classification Benchmark).
The goal of a corporate website is to present the company to a spectrum of external stakeholders, producing engaging content that invites the reader to explore further. Since users have varying degrees of knowledge and interests – consider an audience as broad as investors, media and jobseekers – companies need to provide a significant range of information. In this context Generali.com was able to combine a very informative and transparent quality content with an innovative and richest new storytelling approach, that was coupled with the recent launch of new Social Media channels. This has allowed us to be once again the best European insurance corporate website.