Generali awarded for its bond on MTPL loss ratio RC Auto
Horse Capital I successfully recognised as "Non life transaction of the year" by Trading Risk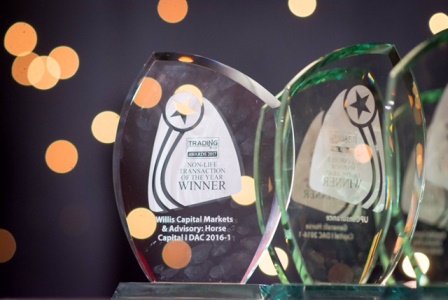 Horse Capital I, the first bond closed by Generali to protect against a deterioration of the loss ratio of its motor third party liability portfolio has won the "Non-life transaction of the year" award from Trading Risk, regarded as one of the most relevant players of the information sector of the Insurance Linked Securities (ILS) market.
The Trading Risk Awards programme was established in 2009 to reward the achievement of ILS market participants. Nominations are judged by a panel of independent ILS executives. In particular this award refers to non-life transactions either breaking boundaries in non-life risk transfer market, or cementing the foundations of a core transaction, where the winner is an efficiently structured, well priced and successfully executed transaction.
Horse Capital I, launched in December 2016, is an innovative ILS transaction that provides Generali to better manage the possible volatility of its loss ratio. This technology created a structure where investors were familiar and comfortable, while achieving Generali's coverage and economic objectives.
For essentially the first time since the financial crisis, Horse Capital I demonstrates that investors will invest in ILS linked to casualty risk. To achieve this, the existing ILS technology has been adapted to transfer MTPL casualty risk to investors in a way that met the needs of both investors and the sponsor.
This is very exciting as it opens the door to more opportunities, which could fuel new growth of the ILS market. As opposed to merely copying a traditional reinsurance offering, Horse Capital I demonstrates that ILS investors can actually bring innovation in insurance risk transfer to clients.
The successful placement confirmed that investors will support transparent, well structured, yet innovative ILS investments. Here the bond was upsized from the initial target of € 180 mln to € 255 mln, the maximum amount possible under the structure.
The judges noted that many attempts have been made in the past to bring liability risk to the ILS markets without success. They said the deal showed more flexibility from cat bond structures and solved the problem of transforming long-tail risk into short-tail transactions.