French volleyball on top of the world with Generali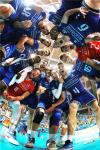 "Les Blues", the French national volleyball sport team, sponsored by Generali France, won the World League for the first time in its history, in three sets over Serbia in the final hosted in Rio de Janeiro.
Generali France, sponsor of the French Federation of Volleyball for 19 years, launched the Responsible Sports Charter in 2010, coherently with the Group guidelines, to actively promote the culture of sustainability in the sporting arena.
Discover the other sponsorship initiatives by visiting the relevant section.
This broad initiative covers various aspects of interest of Generali, such as social inclusion and health promotion. Furthermore, Generali France is also involved in the world of volleyball in terms of business, guaranteeing to over 120,000 volleyball players within the federal license and specific solutions for 1,700 clubs.