Federica Brignone celebrates on podium in Flachau and dreaming of Cortina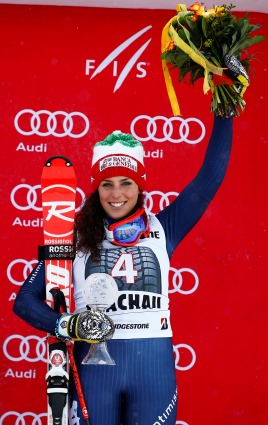 "When I heard the speaker say "Mistake!" , I just thought to myself ...Fede, this is getting hard....Then at the end of the race I realised that I had actually made a fabolous time. I did not win , but I am really satisfied with myself", Federica Brignone reports. She is very happy and satisfied at the end of Flachau Giant Slalom , that took place on Sunday, January 17th. She finished third behind the German Viktoria Rebensburg and the Slovenian Ana Drev. The star of the Italian team , who has been sponsored by Banca Generali for the past 3 seasons, is next expected to race on the mythical Olimpia delle Tofane slope in Cortina (January 23rd and 24th). It is one of the most exciting moments of the female White Circus , featuring great downhill slopes and spectacular scenery. Federica Brignone , who turns 26 on July 14th and has 1 victory, 4 second places, 6 third places and 11 World Cup podiums, has set herself a specific goal: "I will do my best to win a race in Italy, it would be a double victory". This will not be an easy challenge for her, because she will have to beat the American Lindsey Vonn and the Swiss Lara Gut, but Federica's skiing technique perfectly suits the Olympia course, which consists of very rounded turns and is always bathed in sunshine.
Thousands of fans and Generali, which is sponsoring a total of 32 World Cup races like Kitzbuhel through its Austrian branch, will be allowed into the finish line area to support one of the most loved, appreciated and iconic athletes of the Italian team and the alpine skiing, one of the most popular and followed by the public worldwide. After the Italian leg, Generali will attend 2 other important events in Slovenia (Giant Slalom and Slalom, Maribor and the races in Kranjska Gora) and one event in Norway (KvitfJell, March 12th).
Discover the other sponsorship initiatives by visiting the relevant section.