Strategy
Our strategic plan Generali 2021, "Leveraging strengths to accelerate growth" is aligned with the Group's stated ambition to be a Lifetime partner to its customers, offering innovative, personalized solutions thanks to its unmatched distribution network.
The strategic plan Generali 2021 was launched in November 2018, with the ambition to lead the European insurance market for individuals, professionals and SMEs, while building a focused, global asset management platform and pursuing opportunities in high potential markets.

During the Investor Day in November 2020, a year characterized by the Covid 19 pandemic, Generali proved the validity of the strategic direction confirming the plan targets, thanks to the ability to navigate the difficult context from a position of strength.
Our Company today is a leader for insurance in Europe with about €70 billion of premiums and a distribution network of over 155,000 people. Following a comprehensive and successful financial (2012 - 2015) and industrial (2016 -2018) turnaround, we have delivered best-in-class technical and operational performance.
The Group CEO of Generali Philippe Donnet confirmed the 2021 strategy and the full commitment to the financial targets during the Investor Day 2020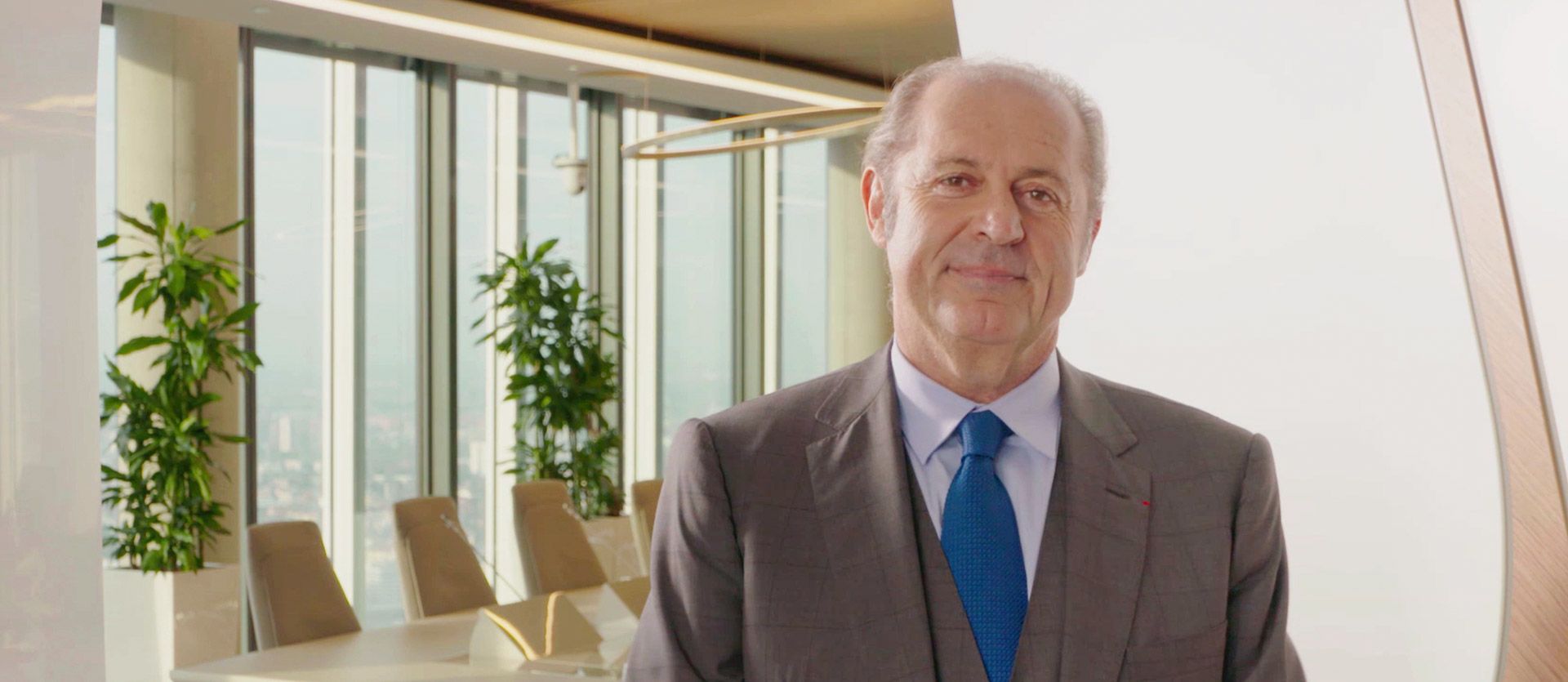 "Our Generali 2021 strategy remains effective and even more valid in the current market context. The Group is navigating the most serious post-war global crisis by leveraging its strengths: disciplined strategy execution, focus on technical excellence, strong distribution network and a diversified business model. These strengths, combined with our solid capital position and excellence in innovation, allow us to fully commit to the financial targets of our strategy and to be well-positioned to capitalize on future opportunities. Two years after the launch of the plan, we are maintaining our commitments to all stakeholders, thanks also to the empowerment of our people, an increasingly strong brand and our growing commitment to sustainability."
Philippe Donnet, Generali Group CEO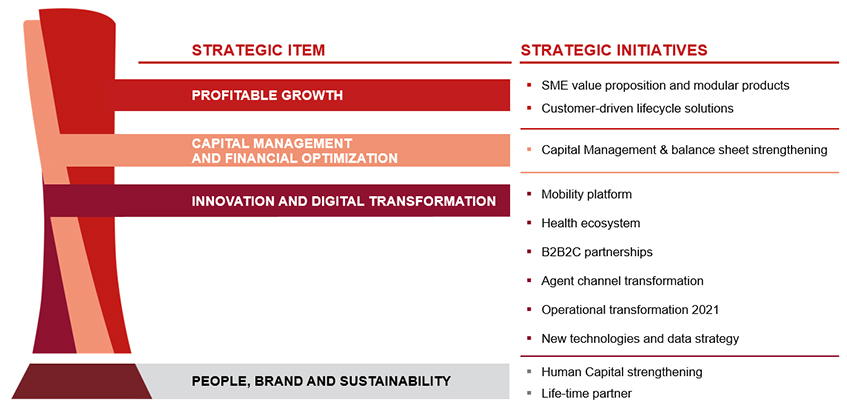 OUR PURPOSE
Insurance industry is continuously evolving, as well as our customers' needs and dreams. Our culture drives the strategy and our purpose, enable people to shape a safer future by caring for their lives and dreams, is the reason why we exist and it inspires and motivates us.

GENERALI 2021 STRATEGY VALIDATED
Profitable growth, capital management and financial optimization and innovation and digital transformation are the three strategic pillars on which the 2021 strategy was built, contributing to the delivery of the 2021 financial targets. During the 2020 Investor Day we were able to reconfirm the financial targets for 2021 thanks to three key factors:
The resilient financial performance based on our key strengths: clear strategy, focus on technical excellence, strong distribution network, diversified business model
The proactive and decisive actions taken since the start of the crisis to protect shareholder value, as well as our customers and our people
Our commitment to the core convictions underpinning the Generali 2021 strategy, which are today more relevant than ever and allow to capitalize on emerging opportunities

THE FOUR CONVICTIONS AT THE BASIS OF THE PLAN GENERALI 2021
Our strategic plan will continue the evolution of the business and is centered around four key differentiating convictions.
European insurance markets will remain attractive. High private wealth accumulation will support the sale of Life and Asset Management products, while demographic trends and reduced public spending will drive the development of pension, health and welfare services. This conviction was confirmed also in light of the strong ECB response and fiscal stimulus framework and we expect to strengthen our leadership here.
The Retail and SME markets are driving profitable growth. Retail customers will play a key role in future insurance markets, while the SME segment is a key opportunity in core markets like Italy and Germany. Consumers are saving more worldwide and customer's awareness of health and protection needs further increased during the pandemic.
An integrated Insurance and Asset Management offer is key for customers worldwide. Customers are seeking integrated Life and Asset Management products to protect and grow their assets, with demand for integrated protection and investment solutions further increasing in the lower for longer interest rates scenario, while macro and demographic shifts are increasing demand for innovative P&C and Health solutions. This integration reflects the shift in focus from 'products' to 'customers' and from "protection and indemnity" to "prevention and servicing."
Physical distribution is empowered and not replaced by digital platforms. Physical distribution networks digitally enabled will remain a competitive advantage, allowing for higher customer satisfaction, productivity and efficiencies. The distinguishing performance of our agents and distributors during the pandemic lockdown phase was a further proof and we are accelerating the digital transformation, providing our customers with the true omnichannel experience.

OUR FINANCIAL TARGETS
Growing Earnings per share. We are committed to delivering with a target CAGR of 6% to 8% for the period 2018-21. There will be a number of contributors to this target including increased core profitability from Generali's insurance and asset management businesses, greater efficiency with an additional expense reduction target, active management of interest expenses and redeployment of capital to support profitable growth initiatives. During the 2020 Investor Day we confirmed we are on track to deliver this target.
Growing dividend. We are committed to a growing and sustainable dividend for a cumulative amount of €4.5 to 5 billion between 2019 and 2021. During the 2020 Investor Day we confirmed the cumulative commitment, subject to regulatory environment, and the pay-out ratio range of 55% to 65%, which is a guidance rather than a constraint, to be seen also together with the objective to deliver steadily growing dividends.
Higher return for shareholders. Attractive profitability will be delivered through a target average Return on Equity of more than 11.5%. During the 2020 Investor Day we reminded that we met the RoE of more than 11.5% in 2019 and confirmed we expect 2021 to be also above 11.5%. As to 2020, due to the negative impact of some non-recurring items and the effects of Covid-19 on financial markets, we expect both 2020 RoE and the average 2019-2021 RoE to be below 11.5%.

THE THREE ENABLERS
The execution of the plan will be supported by three key enablers.

People. We will empower our people, nurturing global and diverse leaders and talents, while rewarding excellence. We promote an agile and adaptive organization, a need that was reinforced during the pandemic, with 100% smart working, and we will help staff acquire new digital skills, with the aim of meeting a 50% target by 2021. In 2020, one third of employees is already involved in upskilling and reskilling programs.
Brand. We will ensure a consistent and distinctive brand experience built around the promise of becoming a life-time partner for customers. In 2020 the first global advertising campaign was launched, receiving an incredible feedback across markets.
Sustainability. We have a clear sustainability strategy as part of Generali 2021, with defined goals and firm climate priorities. We committed to grow green and social retail products by 7%-9% and to allocate €4.5 billion to green and sustainable investments by 2021. The development of a differentiating value proposition for customers within the Responsible Consumer Ecosystem is a further key initiative with strong sustainability footprints, as well as the EnterPrize award for sustainable SMEs and the expansion of our flagship community initiative Human Safety Net.