Goals and results
Our new plan "Lifetime Partner 24: Driving Growth" builds on the successful delivery of "Generali 2021": the new ambitious targets and initiatives are possible thanks to the results achieved at the end of the previous strategic plan.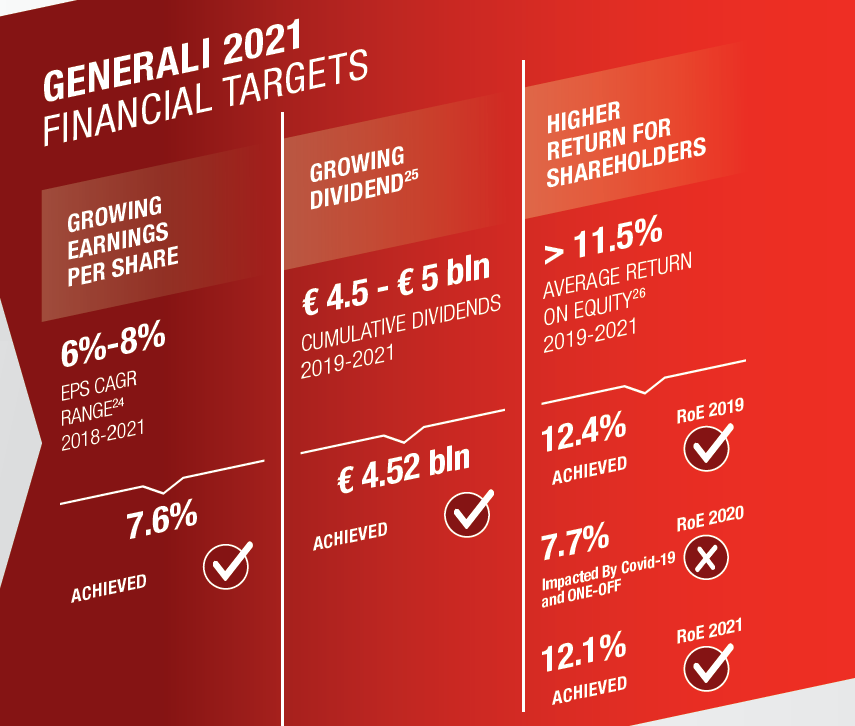 In 2021 Generali pursued the implementation of the strategic initiatives with the aim of ensuring the achievement of the financial and non-financial targets of the three-year strategic plan.
The core convictions underpinning the tree-year plan were reinforced in light of current trends. The offered us the opportunity to strengthen our leadership position in Europe and our presence in high potential markets through the disciplined execution of the strategy, the seize growth opportunities by leveraging business diversification in the core Life and P&C segments, and to continue to develop the Asset Management, while accelerating digital transformation.
We defined and disciplined criteria for M&A transactions and identified three key strategic areas where acquisitions and partnerships could boost our existing offer. We were consistent with our strategic priorities and we successfully enhanced our leadership position in Europe and in selected high potential markets, effectively integrating acquired companies and creating incremental value through partnerships.
The implementation of our capital management framework is fundamental to achieve our cash and capital targets. The framework provides risk-adjusted and return on equity metrics used as threshold of capital and M&A strategic choices.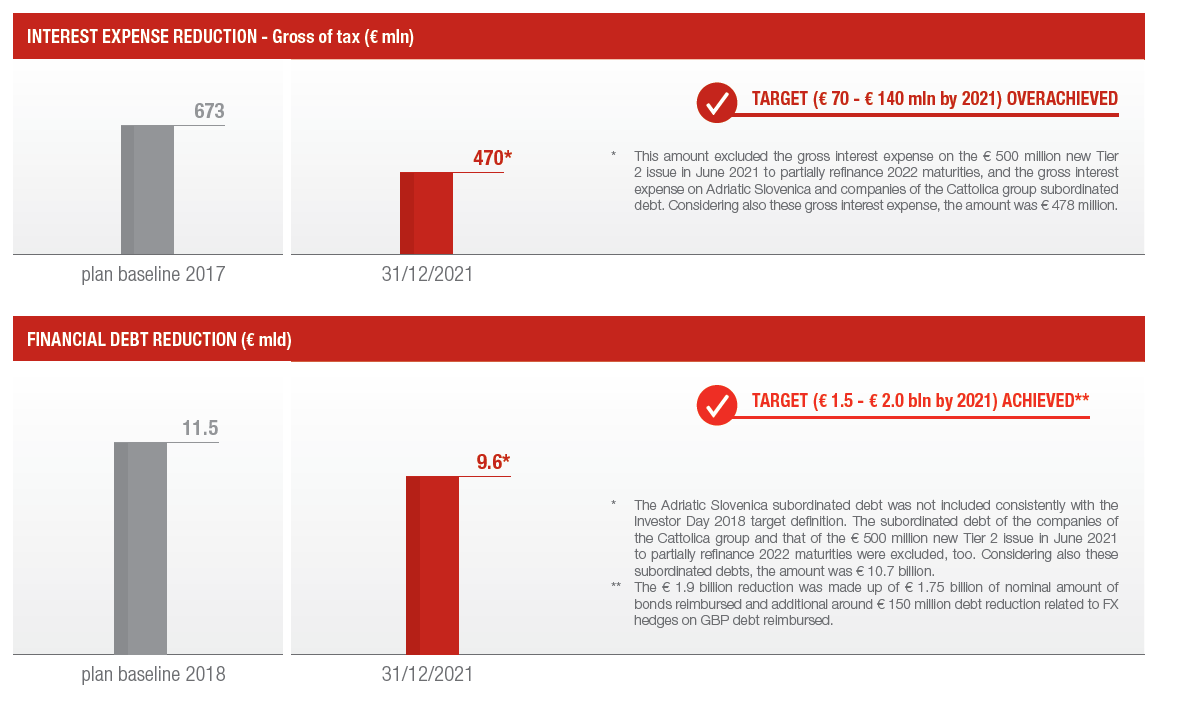 Our ambition is to become a truly innovation-led, digitally-enabled, data-driven and agile organization to our people, our agents and our customers. Our goals are:
To become Lifetime Partner to our customers

To support the digital transformation of the distribution network

To transform our operating model with a view of greater digitalization
In line with the 2019-2021 strategic plan, on order to accelerate our business transformation, in 2021 we invested about € 400 million in strategic initiatives, mainly addressed to operating transformation.

As for the European insurance business, the initial target of € 200 million in expense reduction, that was achieved already at year-end 2020 thanks to disciplined execution of savings and transformation initiatives, was increased to € 300 million. Thought new ways of working and external services optimization, we got additional savings, enabling us to reach the target at year-end 2021.
OUR CUSTOMERS


OUR AGENTS