We Delivery on the Promise: we want to improve the lives of our customers.

We Value our People: we value our people, we encourage diversity.

Be Open: we are curious, accessible and look at things with different perspectives.

We Live the Community: proud to belong to a strong Global Group.

The story I'm going to tell you begins in 1999, when a 24-year-old girl decides to swap her first job, in an activity that was considered trendy at the time, for another, more grey... insurance? What is it? Well, the girl took a risk and exchanged the certain for the uncertain, even though it was an international company and telecommunications did not exist at the time... and the International Relations course could help.

Selling insurance? I didn't think I could do it, I've never sold anything in my life...but...I took a chance, I did it, and the journey began that day!

22 years at Generali, with so many stories, under the wing of the Lion, I went to Human Resources, where I discovered that I feel fulfilled in a training room, that I am not afraid to speak in public, that I am like a "fish in water" on a stage, that I actively participated in the "birth" of Generali Solidaires, that I helped put the customer at the centre of everything we do at Generali Seguros, that I have travelled miles with the Generali Academy "itinerante", that I have travelled miles to explain the benefits of listening to the customer, that I have seen so many changes in the Group and in Portugal, that there are people on whom I have left my mark, that there are people who have left their mark on me with their experiences and from whom I have learned much of what I am today, that many times or jump without a net, but the 24-year-old girl who entered the Duke of Avila that day in May continues to believe that everything is possible, that every challenge is to be overcome!

The values that identify us are strong and rooted in us, from China to Argentina, the feeling of belonging to this Group is great, they are spread all over the world Generali and I am proud to say that I am Generali!

These are 22 years of my history, within the almost 80 years of Generali's presence in Portugal, within the 190 years of the Group, congratulations to all those who have contributed, are contributing and will contribute in the future to continue to move Generali forward! Tanti Auguri!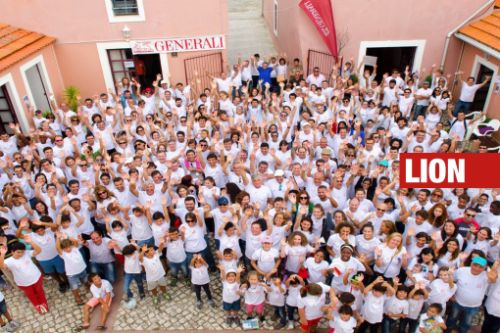 Read the story in original language
We Generali: os nossos Valores!
We Delivery on the Promise: queremos melhorar a vida dos nossos clientes.

We Value our People: valorizamos as nossas pessoas, encorajamos a diversidade.

Be Open: somos curiosos, acessíveis e olhamos para as coisas com perspetivas diferentes.

We Live the Community: orgulho de pertencer a um Grupo Global forte.

A história que vos vou contar começa no ano de 1999, quando uma miúda de 24 anos decide trocar o primeiro emprego, numa actividade considerada trendy na altura por outra mais cinzenta…seguros? O que é isso? Bem a miúda arriscou e trocou o certo pelo incerto até porque era uma empresa internacional e as telecomunicações na altura ainda não eram…e o curso de Relações Internacionais podia ajudar.

Vender seguros? Acho que não consigo, nunca vendi nada na vida…mas…arrisquei, consegui e a jornada começou nesse dia!

São 22 anos de Generali, com tantas histórias,  sob a asa do Leão, passei pelos Recursos Humanos, onde descobri que numa sala de formação sinto-me realizada, que não tenho receio de falar em público, que estou como "peixe na água" em cima de um palco, que participei activamente no "nascimento" dos Generali Solidários, que ajudei a colocar o cliente no centro de tudo o que fazemos na Generali Seguros, que fiz km de estrada com a Academia Generali "itinerante" que fiz km para explicar quais as vantagens de ouvir o Cliente, que assisti as tantas alterações no Grupo e em Portugal, que existem pessoas nas quais  deixei a minha marca, que existem pessoas que deixaram a marca delas em  mim com as suas experiências e com as quais aprendi muito do que sei hoje, que muitas vezes o salto é sem rede, mas a miúda de 24 anos que naquele dia de Maio entrou na Duque D'Ávila continua a acreditar que tudo é possível que qualquer desafio é para ultrapassar!

Os valores que nos identificam são fortes e estão enraizados em nós, da China à Argentina, o sentimento de pertença a este Grupo é grande, estão espalhados por tudo o Mundo Generali e é um orgulho dizer que sou Generali!

São 22 anos de minha história, dentro dos quase 80 anos da presença da Generali em Portugal, dentro 190 anos do Grupo, Parabéns a todos os que contribuíram, contribuem e no futuro irão contribuir para continuar a levar a Generali mais longe! Tanti Auguri!