Imagine the number of people you can meet in your professional life? hundreds, thousands? So imagine now, with a Red Passport in your pocket? THIS diplomatic sesame will allow you, if you dare, to meet whoever you want ...

Between a career as a salesman and communicator, LifeTimePartner all time , of course ... #OnOccupiesTheTerrain , I have always done what was necessary to ensure that my red Generali passport is regularly renewed. And yes, you have to work like a lion to have fun with your wings.

This has been the case on many occasions with splendid trips rewarding the little commercial lions after a great year of numbers, rates and other rankings. Once our Red Passport was stamped, we were free, we had the chance to be rewarded, to go into exile and above all to be treated like a LION (again...)

Following in his footsteps, I found myself with my lioness (spouses were invited) many years ago in the heart of South Africa and its game reserves, in the lost city (or rather paradise on earth) of Sun City. Magnificent hotel complex in a décor inspired by the film "Indiana Jones" on several tens of hectares, guaranteed what an effect!

As a good "incentive" backpacker, I inquire through a guide, also a backpacker, Tripadvisor at the time, about this magnificent palace and its owners. I learned that a world-famous star owns 20% of the shares and that he comes from time to time to enjoy this hyper-secure complex, as well as his "private suite" on the top floor...

When we checked in on our arrival, presenting my red passport, my first question was to ask in a low voice, if by any chance, HE was there? A little discreet nod and a little wink, our receptionist had said it all...he was there!

And as you know with lions chance is not improvised, it is prepared. All our wonderful meetings with our customers, prospects, partners, service providers, intermediaries and other "partners" are often imagined... hoped for... but then we have to DARE when the opportunity arises. (Well, it's true that I sometimes think afterwards... sometimes it works)

During this wonderful stay, many fun and sports activities were offered to us, along with a very small work meeting. The Red Passport was all-inclusive and fun, and the official award ceremony was the highlight of the Champions Lions trip

It is at the end of a flight in parachute ascent with my wife (in order to take a little height in this wild world) above a sumptuous lake, that we crossed aboard a golf cart our star... We even aboard our small vehicle, in a quarter of second, I DARED : " follow him "... Follow him ! I say to our driver. A few minutes later, we found ourselves just inside the crocodile park, closed to the public, face to face with ...

Mickael Jackson (himself!), he came to attend as every evening, the meal of these nice carnivores.

We spent a good moment together, completely out of time, far away from any excitement, fans or other crowd movements, it was just an incredible situation. Needless to say, we were a little intimidated. To break the ice, I congratulated him on being a shareholder in this "amazing" palace. He immediately asked me, rather worriedly, if I was a journalist. I reassured him with an exaggerated French accent: "I'm just an insurer in France for Generali." Reassured, we talked about Paris, crocodiles, his fear of dogs (we had to comfort him when a dog from the park approached him) and his fear of the sun for his skin. Luckily, we still had 2 pictures left on our pocket Kodak (as the Red Lions were not equipped with smartphones at the time... so no selfies). Micky ... for the more intimate ones lends himself to the game of the photo and the autograph, then we attended the dinner of the crocodiles with as a bonus a little shout (well known in his songs), at each stroke of the jaw.

I will remember from him his voice, of great kindness and gentleness. Her curious, attentive and always smiling gaze. Her big hands. Whatever his status, his rank, his notoriety we can always *be benevolent and empathetic

We unfortunately had to take our leave, a shame... and tell Mickael that we too were entitled to awards, he smiled. Indeed it was the gala evening and we had to prepare for the big parade of lions.

The red passport in his pocket, necessary for all of us, Generali ambassadors, allows us to meet many stars in their own way ... just dare to talk to them to write a new story in red ink

Happy birthday.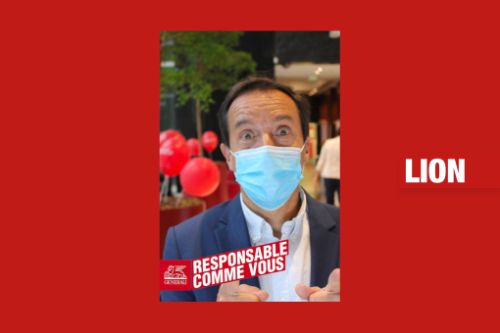 Read the story in original language
The Red Passeport


Imaginez le nombre de personne que l'on peut croiser dans une vie professionnelle ? des centaines , des milliers ? Alors imaginez maintenant, avec un Passeport Rouge dans la poche ? CE sésame diplomatique va vous permettre, si vous osez, de rencontrer qui vous voulez …

Entre une carrière de commercial et de communicant, LifeTimePartner all time , of course … #OnOccupeLeTerrain , j'ai toujours fait le nécessaire pour que mon passeport rouge Generali soit régulièrement renouvelé. Et oui il faut bien travailler comme un Lion pour s'amuser avec ses ailes.

Ce fut le cas en de nombreuses reprises au travers de splendides voyages récompensant les petits lions commerciaux après une belle année de concours à base de chiffres, de nombres, de taux et autres classements. Une fois notre Red Passeport « tamponné », à nous la liberté, à nous la chance d'être récompensé, de s'exiler et surtout d'être traité comme un LION (encore lui…)

Et c'est en suivant sa trace que je me retrouve avec ma lionne (les conjoints étaient invités), il y a maintenant de nombreuses années en plein cœur de l'Afrique du Sud et de ses réserves sauvages dans la cité perdue (ou plutôt un paradis sur terre) de « Sun City ». Magnifique complexe hôtelier dans un décors inspiré du film « Indiana Jones » sur plusieurs dizaines d'hectares, effet whaouh garanti !

En bon routard « incentive », je me renseigne au travers d'un guide, routard lui aussi, Tripadvisor de l'époque , quant à ce magnifique palace et ses propriétaires. J'apprends qu'une star mondialement connue, possède 20% des parts et qu'il vient de temps en temps profiter de ce complexe , hyper sécurisé , ainsi que sa « suite privée » au dernier étage..

Lors du check in à notre arrivée, en présentant mon passeport rouge, ma première question fut  de demander à voix basse,  si par hasard , IL était là ?  Petit signe discret de la tête et petit clin d'œil, notre réceptionniste avait tout dit…il était là !

Et comme vous le savez chez les lions le hasard ne s'improvise pas, il se prépare. Toutes nos belles rencontres avec nos clients, prospects, partenaires, prestataires, intermédiaires et autres « partners », sont souvent imaginées … espérées… mais après il faut OSER quand l'occasion se présente . (Bon , c'est vrai qu'il m'arrive de réfléchir après … parfois ça marche)

Lors de ce magnifique séjour de nombreuses activités ludiques et sportives nous étaient proposées, agrémentées d'une toute petite réunion de travail. Le Red Passeport rimait avec « all inclusive » et distractions sans oublier la cérémonie officielle de remise des prix, point d'orgue du voyage des « lions champions ».

C'est à l'issu d'un vol en parachute ascensionnel avec mon épouse (afin de prendre un petit peu de hauteur sur ce monde sauvage) au-dessus d'un somptueux lac, que nous croisâmes à bord d'une voiturette de golf notre star … Nous même à bord de notre petit véhicule, en un quart de seconde, j'ai OSER : « follow him » … Suivez-le ! Dis-je à notre chauffeur. Quelques minutes plus-tard, nous nous retrouvâmes juste dans l'enceinte du parc de crocodiles, fermé au public, en tête à tête avec …

Mickael Jackson (himself !), il venait assister comme chaque soir, au repas de ces gentils carnivores.

Nous avons passé un bon moment ensemble, totalement hors du temps, loin de toute agitation, fans ou autre mouvement de foule, c'était tout simplement incroyable comme situation. Il va sans dire que nous étions, un peu intimidés. En discutant en guise d'ice breaker , je l'ai félicité d'être actionnaire de ce « amazing » palace.  Il m'a tout de suite demandé, plutôt inquiet, si j'étais journaliste ? Je l'ai rassuré avec un accent exagérement français : « Je suis simplement assureur en France pour la compagnie Generali ». Rassuré, nous avons parlé de Paris, des crocodiles, de la peur qu'il avait des chiens (nous avons dû le réconforter lorsqu'un chien du parc s'est approché de lui) et la crainte du soleil pour sa peau. Par chance il nous restait 2 photos sur la pellicule de notre pocket kodak, (car à cette époque les Red Lions n'étaient pas équipés de smartphones…donc pas de selfies). Micky … pour les intimes s'est prêté au jeu de la photo et de l'autographe puis nous avons assisté au diner des crocodiles avec en prime un petit cri (bien connu dans ses chansons), à chaque coup de mâchoires.

Je retiendrai de lui sa voix, d'une grande gentillesse et douceur. Son regard curieux, attentif et toujours souriant. Ses mains imposantes. Quelques soit son statut, son grade , sa notoriété nous pouvons toujours *etre bienveillant et empathique

Nous avons dû hélas prendre congé, un comble… et dire à Mickael que nous aussi, nous avions droit à des awards, il a bien souri. En effet c'était la soirée de gala et il fallait se préparer pour la grande parade des lions.

Le passeport rouge dans sa poche, nécessaire à nous tous, ambassadeurs de Generali, nous permet de croiser de nombreuses stars à leur façon … il suffit juste d'OSER leur parler pour écrire une nouvelle histoire à l'encre rouge

Bon anniversaire.