How do you set out to accomplish a mission that seems impossible? How do you go from zero to 1?

Just..you take the first step. And then you go on.


Athens, May 2002, Panos Demetriou, 33 years old.

It is just after dawn and it is very quiet. I am on my way to the company on the street of Megalou Alexandrou in Maroussi. As I drive, my eyes unconsciously search for the first hint of the sea. Soon it appeared at the end of the road.

It is my first morning as CEO of Generali Hellas.

The phone rings constantly in my office. Most of the time it's not to take congratulations. Most friends - and non-friends - tell me to think about the dangers of taking such a risk. As an actuary, I think I know a thing or two about risk assessment and risk. But the reality is one. Generali is 17th in the market. Moreover, another merger of three formerly competing companies with different cultures and dynamics, Zurich Insurance Greece and Generali Life & Generali Property & Casualty, has just been completed.

Massive resignations of departments and executives followed, while there were rumours of the group's imminent withdrawal from Greece. The atmosphere is one of disbelief and the Generali lion seems to be asleep in the face of its competitors. Will this be the last gasp of an organisation or a new breath of life?

I am sitting at my desk trying to study as much information as I can for the first meeting with the leaders. There are not many... In the hall I counted the few cadres we had left. Those who decided to stay. They had calculated the same risk. The meeting ended after a few hours. The first memo with the company's vision and 5-year plan has been prepared and distributed internally. Our first goal? To double in five years the production of the company in the 110 years of its presence in Greece. Many people still need to be convinced that it is worth fighting for the unattainable. But the anxiety of waiting has now been replaced by a determined look of cautious optimism. There will be days and nights of hard work, each with their teams, and years of watching Generali climb higher and higher in the rankings. A persistent and demanding forging of a successful course, designed step by step by its people, for its people.

I forgot to mention that there is still a very small distribution network, there is no bancassurance cooperation, there is no close cooperation with intermediaries and, above all, there is no money. But there is one thing that turns logic and hard data on its head, that unknown X in the equation. It is none other than people. A group of people, young people in their 30s, who pooled their energy and went against the grain. Against all logic, they made a bet with themselves, they set an unattainable goal, and in the face of what the few could lose, they saw only what they could gain for the many.


May 2021- Four months have passed since the announcement of Generali's acquisition of the ninth largest company in Greece (AXA), and in a few days the start will be officially announced. The headlines in the financial press refer to one of the most significant deals in the Greek insurance market in recent years... After 22 years of steady organic growth, people ask me what Generali means to me. The answer is simple. Generali is the story of a group of people who dared to dream.

We wanted it.

We believed it with all our might.

We planned it.

We did it.

Like all successful teams.

May 25, 2021- Another day of meetings and negotiations begins. On my computer screen, during the teleconferences, I see some of the same faces I saw during those early years of the journey. They still believe, and this time they have the advantage of experience. An important step has been taken, but there are still many miles to go before we reach the end...

The sun reflects brightly on my car window. It brings back a memory. It's from Kimolos. A small Cycladic port that we visited with our partners on one of our trips. When you drop anchor there, the first thing you see are the colourful "wirma", caves dug into the rock where fishermen keep their boats in winter. Something so simple, made with so much effort, that it wins you over with its simplicity. The only thing that separates it from the endless blue is a modest wooden door that opens every year at this time to the bright light and the endless blue of the Aegean Sea. But this is no time to dream. This summer will be different...

I cross Sygrou Avenue. On my left, the new Generali building begins to take shape. The horizon of the sea will appear in front of me again. The feeling is the same as it was 20 years ago... All I see is a "sea of possibilities". Ready to welcome new "travellers" who will come with their own momentum and dream of creating their own Generali.

The Generali of the next 135 years.

Because the best is yet to come.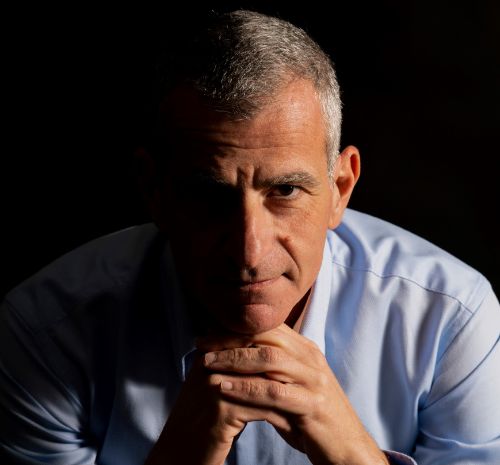 Read the story in original language
Ενάντια στο ρεύμα
Πώς ξεκινά κανείς για να φέρει εις πέρας μία αποστολή που μοιάζει ακατόρθωτη; Πώς μπορείς να πας από το μηδέν στο 1;

Απλά…κάνεις το πρώτο βήμα. Και μετά συνεχίζεις.

Αθήνα, Μάιος 2002, Πάνος Δημητρίου, 33 ετών.

Είναι λίγο μετά το ξημέρωμα και επικρατεί απόλυτη ησυχία. Κατευθύνομαι στην εταιρεία στην οδό Μεγάλου Αλεξάνδρου στο Μαρούσι. Καθώς οδηγώ η ματιά μου ψάχνει ασυναίσθητα την πρώτη υποψία θαλάσσιου ορίζοντα. Σε λίγο θα φανεί στο τέλος του δρόμου.

Είναι το πρώτο μου πρωινό ως CEO της Generali Hellas.

Στο γραφείο μου το τηλέφωνο χτυπάει συνεχώς. Τις περισσότερες φορές δεν είναι για να δεχτώ συγχαρητήρια. Οι περισσότεροι φίλοι -και μη- μου λένε να αναλογιστώ τους κινδύνους της ανάληψης ενός τέτοιου ρίσκου. Σκέφτομαι ότι ως αναλογιστής, γνωρίζω πολύ καλά από εκτιμήσεις ρίσκου και κινδύνους. Ωστόσο, η πραγματικότητα είναι μία. Η Generali κατέχει την 17η θέση στην αγορά. Επίσης, μόλις έχει ολοκληρωθεί μία ακόμη συγχώνευση τριών άλλοτε ανταγωνιστικών εταιρειών, με διαφορετική κουλτούρα και δυναμική, η Zurich insurance Greece και οι Generali Life & Generali Property & Casualty.

Έχουν ακολουθήσει μαζικές παραιτήσεις τμημάτων και στελεχών, ενώ υπάρχουν φήμες για επικείμενη αποχώρηση του Ομίλου από την Ελλάδα. Στην ατμόσφαιρα επικρατεί δυσπιστία για την επόμενη μέρα και μπροστά στους ανταγωνιστές του, το λιοντάρι της Generali μοιάζει να κοιμάται. Θα είναι αυτή η  τελευταία ανάσα ενός οργανισμού ή μια νέα πνοή ζωής;

Είμαι στο γραφείο μου και προσπαθώ να μελετήσω όσα περισσότερα στοιχεία μπορώ για την πρώτη συνάντηση με τους επικεφαλής. Δεν υπάρχουν πολλά… Στην αίθουσα μετράω λίγα στελέχη που μας έχουν απομείνει. Όσοι επέλεξαν να μείνουν. Έχουν υπολογίσει κι αυτοί το ίδιο ρίσκο. Η συνάντηση ολοκληρώνεται μετά από αρκετές ώρες. Το πρώτο memο με το όραμα και το 5ετές πλάνο της εταιρείας έχει συνταχθεί και διανέμεται εσωτερικά. Ο πρώτος μας στόχος; Nα πετύχουμε σε πέντε χρόνια τη διπλάσια παραγωγή από όση είχε η εταιρεία στα προηγούμενα 110 χρόνια παρουσίας της στην Ελλάδα. Θα πρέπει να πειστούν ακόμη πολλοί άνθρωποι για το αν αξίζει να αγωνιστούν για να ανατρέψουν το ανέφικτο. Την αγωνία της αναμονής όμως έχει αντικαταστήσει τώρα ένα αποφασιστικό βλέμμα συγκρατημένης αισιοδοξίας. Θα ακολουθήσουν μερόνυχτα σκληρής δουλειάς, ο καθένας με τις ομάδες του και χρόνια, που θα παρακολουθούμε την Generali να φτάνει όλο και πιο ψηλά στην κατάταξη. Ένα επίμονο και απαιτητικό σφυρηλάτημα μίας επιτυχημένης πορείας, που σχεδιάστηκε βήμα-βήμα από τους ανθρώπους της, για τους ανθρώπους της.

Ξέχασα να σας αναφέρω … έχει παραμείνει ένα πολύ μικρό δίκτυο διανομής, δεν υπάρχει συνεργασία bancassurance, δεν υπάρχει στενή συνεργασία με διαμεσολαβητές, και το κυριότερο, δεν υπάρχουν χρήματα. Υπάρχει όμως αυτό που ανατρέπει την λογική και τα σκληρά δεδομένα, αυτός ο άγνωστος Χ της εξίσωσης. Δεν είναι άλλος από τους ανθρώπους… Μία παρέα ανθρώπων, νέων, γύρω στα 30, που ένωσαν την ενέργειά τους και πήγαν ενάντια στο ρεύμα. Ενάντια σε κάθε λογική, έβαλαν ένα στοίχημα με τον εαυτό τους, έθεσαν έναν άπιαστο στόχο και μπροστά σε όσα υπήρχαν για να χάσουν οι λίγοι, είδαν μόνο όσα μπορούσαν να κερδίσουν για τους πολλούς.

Μάιος 2021- Έχουν περάσει 4 μήνες από την ανακοίνωση της εξαγοράς της 9ης  μεγαλύτερης εταιρείας στην Ελλάδα (AXA) από την Generali και σε λίγες μέρες θα ανακοινωθεί επίσημα η έναρξη. Oι τίτλοι των οικονομικών ενημερωτικών μέσων κάνουν λόγο για μία από τις πιο καθοριστικές για τις εξελίξεις, συμφωνία στην ελληνική ασφαλιστική αγορά, τα τελευταία χρόνια. Oι εργασίες της συγχώνευσης είναι πυρετώδεις Μετά από 22 χρόνια σταθερής οργανικής ανάπτυξης, με ρωτάνε τι σημαίνει η Generali για μένα. Η απάντηση είναι απλή. Η Generali είναι η ιστορία μίας ομάδας ανθρώπων που τόλμησαν να ονειρευτούν.

Το θελήσαμε.

Το πιστέψαμε με όλη μας τη δύναμη.

Το σχεδιάσαμε.

Το κάναμε.

Όπως συμβαίνει με όλες τις πετυχημένες ομάδες.

25 Μαΐου 2021- Μία ακόμη μέρα συναντήσεων και διαπραγματεύσεων ξεκινά. Στην οθόνη του υπολογιστή μου, κατά τη διάρκεια των τηλεσυνεδριών, διακρίνω μερικά από τα ίδια πρόσωπα που αντίκρυσα στα πρώτα εκείνα χρόνια της διαδρομής. Πιστεύουν ακόμη, και αυτή τη φορά έχουν το πλεονέκτημα της εμπειρίας. Ένα σημαντικό βήμα έχει γίνει, αλλά μένουν ακόμη πολλά χιλιόμετρα για να φτάσουμε στο τέλος...

Ο ήλιος αντανακλά δυνατά στο τζάμι του αυτοκινήτου μου. Μου φέρνει στο μυαλό μία ανάμνηση. Είναι από την Κίμωλο. Ένα μικρό κυκλαδίτικο λιμάνι, που επισκεφθήκαμε με τους Συνεργάτες μας σε ένα από τα ταξίδια μας. Εκεί, το πρώτο που αντικρίζει κανείς με το που ρίχνει άγκυρα είναι τα χρωματιστά "σύρματα", λαξευμένες σπηλιές μέσα στα βράχια, όπου οι ψαράδες φυλάνε τις βάρκες τους το χειμώνα. Κάτι τόσο απλό, που έγινε με κόπο και σε κερδίζει με την απλότητά του. Το μόνο που τα χωρίζει από το απέραντο γαλάζιο είναι μόνο μια ταπεινή, ξύλινη πόρτα, που κάθε χρόνο τέτοιον καιρό, ανοίγεται στο δυνατό φως και στο απέραντο μπλε του Αιγαίου. Όμως δεν είναι ώρα για ονειροπολήσεις. Αυτό το καλοκαίρι θα είναι διαφορετικό…

Διασχίζω τη λεωφόρο Συγγρού. Στα αριστερά μου το νέο  κτήριο της Generali έχει αρχίσει να παίρνει μορφή. Μπροστά μου θα φανεί για ακόμη μία φορά ο θαλάσσιος ορίζοντας. Η αίσθηση είναι η ίδια όπως περίπου 20 χρόνια πριν… Το μόνο που βλέπω είναι μία "θάλασσα από ευκαιρίες". Έτοιμη να υποδεχθεί νέους "ταξιδευτές", που θα έρθουν με τη δική τους ορμή και θα ονειρευτούν να δημιουργήσουν τη δική τους Generali.

Tην Generali των επόμενων 135 χρόνων.

Γιατί τα καλύτερα είναι μπροστά μας.