A company with history and fresh ideas
My first trip to Trieste was in October 2001. I was only 27 years old and had just joined the company (not yet 5 months), to take over the reinsurance of general insurance. Together with my good colleague Maria Karra, Deputy General Manager of Generali Hellas, we travelled to the Group's headquarters to continue the reinsurance renewals.

I still remember today the feeling I got from that trip...

For those who don't know it, Trieste is not an ordinary European city. For nearly two centuries, it has been an important commercial crossroads of South-Eastern Europe, attracting businessmen of different nationalities, languages and religions. It is a lively urban centre with multicultural characteristics and one of the 2 locations Generali chose as its Headquarters, because of its special symbolism.

When I entered the offices of our Group, I felt that sense of grandeur that only places steeped in history can exude. A majesty that comes both from the spaces of the building, with the old lift with the velvet chair, the high ceilings and the wooden floors that creak under our footsteps, and from the certainty of knowing that great personalities have passed through here, whose actions and decisions still influence our business.

It was a contradiction for me that in this building, where you could see history being written, there were people with very modern thoughts and ideas, leaders who were very determined to adopt innovative ideas and innovative logic. Generali's legacy was not a burden on their shoulders that they had to carry somehow, but it fed them with energy and determination to do everything in their power to take the Group further, further ahead and to continue its impressive course.

It was the combination of these two elements that impressed me. The history and tradition of the Group on the one hand, and the spirit of innovation on the other. The knowledge that we are a great organisation and that it is our duty to use what we have inherited, to develop it, to advance it, to carry it forward in time.

On that day, in my first meeting with the head office people, it was announced that Mr Demetriou had been appointed CEO of Generali Hellas. On that day, I realised that I was not just joining a company with history, but a historical company with the vision and ambition to grow, to progress and to be a model in its field. For me, that day was the start of a 20-year journey that continues to this day.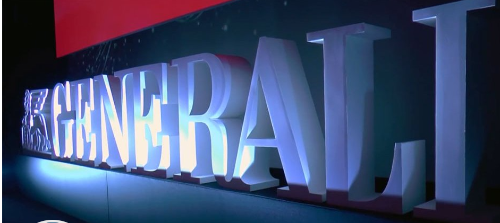 Read the story in original language
Εταιρία με ιστορία και φρέσκιες ιδέες
Το πρώτο μου ταξίδι στην Τεργέστη πραγματοποιήθηκε τον Οκτώβριο του 2001. Ήμουν μόλις 27 ετών και είχα πρόσφατα ενταχθεί στο δυναμικό της εταιρίας (δεν είχαν ακόμα συμπληρωθεί 5 μήνες), για την ανάληψη των αντασφαλειών των γενικών ασφαλίσεων. Μαζί με την καλή συνάδελφο Μαρία Καρρά, Αναπληρώτρια Γενική Διευθύντρια της Generali Hellas, ταξιδέψαμε στην Έδρα του Ομίλου για να μπορέσουμε να προχωρήσουμε στις ανανεώσεις αντασφαλειών.

Θυμάμαι ακόμα και σήμερα την αίσθηση που αποκόμισα από εκείνο το ταξίδι…

Για όσους δεν την γνωρίζουν, η Τεργέστη δεν είναι μία τυχαία ευρωπαϊκή πόλη. Για δύο περίπου αιώνες, υπήρξε σημαντικό εμπορικό σταυροδρόμι της νοτιοανατολικής Ευρώπης προσελκύοντας επιχειρηματίες διαφορετικών εθνοτήτων, γλωσσών και θρησκειών. Ζωντανό αστικό κέντρο με πολυπολιτισμικά χαρακτηριστικά και μία από τις 2 τοποθεσίες όπου επέλεξε η Generali ως Έδρα, λόγω του ιδιαίτερου συμβολισμού της.

Μπαίνοντας στα γραφεία του Ομίλου μας, αυτό που αποκόμισα ήταν εκείνη η αίσθηση μεγαλείου που αποπνέουν μόνο όσοι χώροι έχουν διατρέξει την ιστορία. Μία επιβλητικότητα που προκύπτει τόσο από τους χώρους του κτιρίου με το παλιό ασανσέρ με τη βελούδινη πολυθρόνα, τα ψηλοτάβανα δωμάτια και τα ξύλινα πατώματα που τρίζουν κάτω από το πάτημά μας, όσο και από την βεβαιότητα της γνώσης ότι εδώ έχουν περάσει μεγάλες προσωπικότητες που οι πράξεις τους και οι αποφάσεις τους επηρεάζουν ακόμα και τώρα την λειτουργία μας.

Αυτό που ήταν για εμένα οξύμωρο ήταν ότι εντός αυτού του κτιρίου, που έβλεπες γραμμένη την ιστορία, υπήρχαν και εργάζονταν άνθρωποι με πολύ μοντέρνες σκέψεις και ιδέες, στελέχη πολύ αποφασισμένα να υιοθετήσουν πρωτοποριακές ιδέες και καινοτόμες λογικές. Η κληρονομιά της Generali δεν ήταν για αυτούς βάρος στις πλάτες τους, που έπρεπε με κάποιον τρόπο να σηκώσουν, αλλά τους τροφοδοτούσε με ενέργεια και αποφασιστικότητα για να πράξουν ό,τι περνούσε από το χέρι τους για να πάει ο Όμιλος ακόμα πιο μπροστά, ακόμα πιο μακριά και να έχει συνέχεια στην εντυπωσιακή πορεία του.

Ο συνδυασμός αυτών των δύο στοιχείων με εντυπωσίασε. Από τη μία, η ιστορία και η παράδοση του Ομίλου και από την άλλη ένα πνεύμα πρωτοπορίας. Η γνώση ότι είμαστε ένας μεγάλος οργανισμός και είναι καθήκον μας αυτό που μας κληροδοτήθηκε να το αξιοποιήσουμε, να το εξελίξουμε, να το πάμε μπροστά, να έχει συνέχεια στο χρόνο.

Εκείνη την ημέρα, στην πρώτη μου συνάντηση με τους ανθρώπους του Head Office, μας ανακοινώθηκε ότι ο κ. Δημητρίου αναλάμβανε CEO της Generali Hellas. Εκείνη την ημέρα συνειδητοποίησα ότι δεν έχω έρθει απλά σε μια εταιρία με ιστορία αλλά σε μια ιστορική εταιρία που έχει όραμα και φιλοδοξία να μεγαλώσει, να προχωρήσει και να είναι ένα πρότυπο στο χώρο που δραστηριοποιείται. Εκείνη η ημέρα, είναι για εμένα, η αφετηρία μιας πορείας 20 χρόνων που συνεχίζεται μέχρι σήμερα.