Beginning at Generali
My first encounter with Generali was as a consultant. What I remember most from that time is the company logo - the lion. I thought that the lion was also a symbol of the Bulgarian coat of arms and this made me even more curious about the company. The effect of "meeting" the Generali lion was reflected a few years later when I became an employee of GP Reinsurance, part of the Generali Group. In fact, I started at a very difficult time for the company - dysfunctional information system, poorly organised processes, demotivated team, conflicts in the team. What changed things was the realisation of every single person in the team that the only way to get out of this situation was to put all our efforts together and take the road to success together, step by step.
The turning point was one day in early 2011, in which we had a deadline to send an annual report. It was clear that we would not make it in time, but then we all decided to work until very late. Although we were not able to send the report on time, we had made a lot of progress with a collective effort that allowed us to send it the next day, and we were expecting a much bigger delay.
On that difficult day, each team member realized a few things:


never again should we be in this situation


every person in the company is important


teamwork is the key to success


Other difficult moments and periods followed, but overcoming them brought the team even closer together. We stabilised the information system, optimised processes, and all our colleagues continued to develop. We excelled in speed, quality and cooperation. From a company that everyone was afraid to work with, we all together turned it into a company that everyone wanted to work with - in the Regional Holding, in Generali's CEE companies, in external companies. And with the same colleagues with whom I started to work at Generali.
On my way to Generali Insurance
One of my first tasks at Generali Insurance was to meet my colleagues from the Territory Sales Structures throughout the country in order to get a better idea of the company's potential. I was impressed by many things during our meetings. First of all, I felt the pride and satisfaction of the colleagues to be part of the Generali family and to be able to do the work they love. Their openness and willingness to share their successes and difficulties exceeded my expectations. Their stories and business incidents show their creativity and entrepreneurial spirit. In some of our offices, this has become a family business where I have seen mother and daughter, father and son working side by side, or a son who has inherited the business from his mother. I realised what a diverse and cohesive team of professionals we have. I now have a better understanding of the current successes and even more confidence in the company's bright future.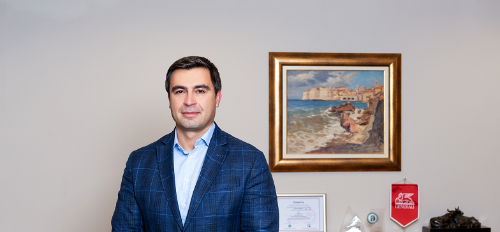 Read the story in original language
Моята история в Дженерали
Началото в Дженерали

Първата ми среща в Дженерали беше в ролята на консултант. Това, което си спомням най-ярко от тези дни е логото на компанията – лъва. Помислих си, че лъвът е също символ на българския герб и това ме накара да стана още по-любознателен спрямо компанията. Ефектът от "срещата" с лъва на Дженерали се отрази няколко години по-късно, когато станах служител на Джи Пи Презастраховане, част от Група Дженерали. Всъщност започнах по време на много труден период за компанията – неработеща информационна система, недобре организирани процеси, демотивиран екип, конфликти в екипа. Това, което промени нещата е осъзнаването на всеки един човек от екипа, че единственият начин да излезем от тази ситуация, е да впрегнем всичките си усилия и заедно да извървим, стъпка по стъпка, пътя към успеха.

Повратната точка беше един ден в началото на 2011 г., в който имахме срок да изпратим годишен отчет. Ясно беше, че няма да се справим навреме, но тогава всички решихме да работим до много късно. Въпреки, че не успяхме да изпратим отчета навреме, с общи усилия бяхме напреднали много, което ни позволи да го изпратим следващия ден, а очаквахме да има много по-голямо закъснение.

В този труден ден всеки член на екипа осъзна няколко неща:



никога повече не трябва да изпадаме в такава ситуация


всеки човек в компанията е важен


екипната работа е ключът към успеха


Последваха и други трудни моменти и периоди, но преодоляването им сплотяваше още повече колектива. Стабилизирахме информационната система, оптимизирахме процесите, всички колеги се развиваха постоянно. Отличавахме се с бързина, качество и кооперативност.  От компания, с която всички отбягваха да работят, всички заедно превърнахме компанията в такава, с която всички работеха с удоволствие – в Регионалния Холдинг, дружествата на Дженерали от ЦИЕ, външни контрагенти. И това със същите колеги, с които започнах работа в Дженерали.
На път в Дженерали Застраховане
Една от първите ми задачи в Дженерали Застраховане беше да се видя лично с колеги от Териториалните структури по продажби от цялата страна, за да придобия по-добра представа за потенциала на дружеството, а и като цяло винаги разчитам на личния контакт, затова предприех няколко пътувания в страната. Много неща ме впечатлиха по време на срещите ни. На първо място усетих гордостта и задоволството на колегите да са част от семейството на Дженерали и да могат да вършат работата, която обичат.  Тяхната откритост и желанието да споделят своите успехи и затруднения надмина очакванията ми. Разказаните от тях истории и случки свързани с бизнеса показват тяхната креативност и предприемчив дух. В някои от офисите ни това се е превърнало в семеен бизнес, където видях майка и дъщеря, баща и син да работят рамо до рамо или син, който е наследил бизнеса от майка си. Дадох си сметка какъв разнообразен и сплотен екип от професионалисти имаме. Сега разбирам по-добре настоящите успехи и съм още по-уверен в светлото бъдеще на компанията.