The lightness of a red nose Generali
Among the new tools for growth and development in Generali and the many experiences I have had in the Company, I participated in amentoring course designed and activated in Country Italy.

What made this experience, which was the brainchild of the Development&amp team, unique;Performance Management, unique as it was an extra-ordinary occasion.

I wore the red nose of the clown doctors for a day, along with the 20 mentors (executives and Chiefs) and the other 20 colleagues involved in the program.

So, I with my UKULELE and the others, in super extravagant disguises, gave smiles to the guests of a facility that cares for Alzheimer's patients, a disease that affects so many people and makes them live poised between reality and oblivion, gradually transforming adults into non-self-sufficient children.

A day of work/non-work that combined my passion for music and for Generali, allowing me to discover once again the true value that our Company knows how to donate in so many actions that only a LIFETIME PARTNER can have "between the ropes" in this case of a UKULELE.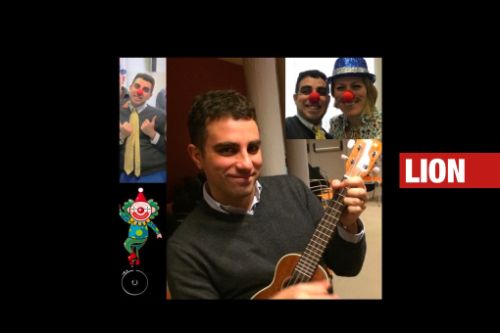 Read the story in original language
La leggerezza di un naso rosso Generali
Tra i nuovi strumenti di crescita e sviluppo in Generali e le tante esperienze vissute in Azienda, ho partecipato ad un percorso di mentoring, progettato e attivato nella Country Italia.

Ciò che ha reso unica questa esperienza, nata da un'idea del team di Development&Performance Management, è stato vivere una occasione extra-ordinaria.

Ho indossato per un giorno il naso rosso dei clown dottori, insieme ai 20 mentor (dirigenti e Chief) e agli altri 20 colleghi coinvolti nel programma.

Così, io con il mio UKULELE e gli altri, con dei travestimenti super stravaganti, abbiamo donato sorrisi agli ospiti di una struttura di assistenza ai malati di Alzheimer, una malattia che colpisce tante persone e che fa vivere in bilico tra realtà e oblio, trasformando progressivamente gli adulti in bambini non autosufficienti.

Un giorno di lavoro/non lavoro che ha unito la mia passione per la musica e Generali, consentendomi ancora una volta di scoprire il vero valore che la nostra Compagnia sa donare in tante azioni che solo un LIFETIME PARTNER può avere "tra le corde" in questo caso di un UKULELE.