Ambassadors to generate the future
When I joined Generali eleven years ago, I was a young graduate with first professional experience who had found in the Leone of Trieste a solid and prestigious company where I could make available and, over time, increase my skills and abilities. But even more, I was already well aware of how much Generali, like me, believed in certain values, in particular in the value of art and culture as fundamental factors of growth for our country. I was therefore proud to become part of a company that has always encouraged its development and its accessibility to a wide audience. Generali is not only packaging sustainable business proposals with a positive impact on the real economy; it also created, in 2017, The Human Safety Net, a foundation currently present in 23 countries, whose mission is to take care of the most vulnerable people in our society.

Offered the opportunity to take part in the activities promoted by the THSN Foundation in Italy through the Ora di futuro project, aimed at families in need with children from 0 to 6 years old in collaboration with nonprofit organizations.

And here is a part of my story that I would like to share with many other colleagues for these first 190 years, that of an emotional day in October 2019 spent at the Milan headquarters of "L'albero della vita", one of our partner non-profit organisations. It was a day to learn more about the work of the non-profit organisation, to get to the heart of its activities, to be at first hand with the children as they drew, painted, read and created whatever their imagination suggested. The looks and smiles of these children and their mothers were a precious gift and reinforced my awareness of the importance of everyone's commitment to a better present and future.

The Human Safety Net did not stop even in the face of the pandemic: it converted volunteer activities into a digital format and raised the bar by aiming to strengthen support to partner nonprofit organizations by building a "Solidarity Piggy Bank." To do this, he enlisted the help of employees from all countries to activate Fundraising initiatives. And here I add another piece of my personal story that I am glad is part of Generali's collective story: I answered the call to action and joined the Fundraising Team Ambassador 2021 of "Future Hour" bringing my passion and energy. It is a wonderful experience with an international scope, and I meet many colleagues who, like me, put their heart and soul into doing our part, together with Generali, to help people in need.

I am pushing forward with my imagination and who knows that in 10 years, for the winged lion's bicentennial, among my other pieces that I will be able to add to the puzzle of Generali's long history, there will not also be that day when I will have witnessed in Venice the reopening event of the Procuratie Vecchie, the new home of The Human Safety Net.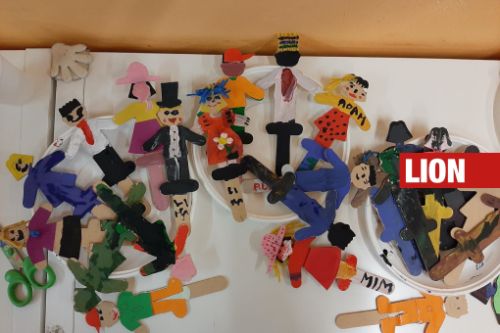 Read the story in original language
Ambassador per generare futuro
Quando undici anni fa sono entrata in Generali, ero una giovane laureata alle prime esperienze professionali che aveva trovato nel Leone di Trieste una solida e prestigiosa realtà aziendale in cui mettere a disposizione e, col tempo accrescere, le proprie competenze e le proprie capacità. Ma ancora di più ero già ben consapevole di quanto Generali, come me, credesse in alcuni valori, in particolare nel valore dell'arte e della cultura quali fattori di crescita fondamentali per il nostro paese. Sono stata quindi fiera di diventare parte di un'azienda che ne ha sempre incentivato lo sviluppo e la sua accessibilità a un vasto pubblico.

Oggi che quella ragazza ha lasciato il posto a una donna e mamma proiettata sul futuro dei suoi bambini, posso ancora e ancor di più riconoscermi in un'azienda che, con una storia di 190 anni, ha posto al centro della sua strategia il valore della sostenibilità, cioè un modello di sviluppo in grado di soddisfare i bisogni della generazione presente senza compromettere le possibilità delle generazioni future di realizzare i propri. Generali non sta solo confezionando delle proposte commerciali sostenibili, a impatto positivo per l'economia reale; ha anche creato, nel 2017, The Human Safety Net, una fondazione attualmente presente in 23 Paesi, che ha la missione di prendersi cura delle persone più vulnerabili della nostra società.

offerta la possibilità di prendere parte alle attività promosse dalla Fondazione THSN in Italia attraverso il progetto Ora di futuro, rivolto alle famiglie in difficoltà con bambini da 0 a 6 anni in collaborazione con le organizzazioni no profit.

Ed ecco un pezzetto della mia storia che voglio consegnare e unire a quello di tanti altri colleghi per questi nostri primi 190 anni, quella di una giornata emozionante dell'ottobre 2019 trascorsa presso la sede milanese de "L'albero della vita" una delle nostre Onlus partner. Una giornata passata a conoscere meglio il lavoro che la Onlus porta avanti, a entrare nel vivo delle loro attività, stando in prima persona accanto ai bambini a disegnare, dipingere, leggere e a creare quello che l'immaginazione suggeriva loro. Gli sguardi, i sorrisi di quei bambini e di quelle mamme sono stati un dono prezioso e hanno rafforzato la mia consapevolezza circa l'importanza dell'impegno di ognuno di noi per un presente e un futuro migliori.

The Human Safety Net non si è fermata neppure davanti alla pandemia: ha convertito le attività di volontariato in formato digitale e ha alzato l'asticella mirando a rafforzare il sostegno alle Onlus partner con la costruzione di un "Salvadanaio solidale". Per farlo ha chiesto l'aiuto dei dipendenti di tutte le Country per attivare iniziative di Fundraising. E qui aggiungo un altro pezzetto della mia storia personale che sono lieta faccia parte della storia collettiva di Generali: ho risposto alla call to action e sono entrata nel Fundraising Team Ambassador 2021 di "Ora di Futuro" portando la mia passione e la mia energia. Sto vivendo una splendida esperienza dal respiro internazionale e sto conoscendo tanti colleghi che come me ci stanno mettendo il cuore per fare la nostra parte insieme a Generali nel supporto alle persone in difficoltà.

Mi spingo in avanti con la fantasia e chissà che tra 10 anni, per il bicentenario del Leone Alato, tra gli altri miei pezzi che potrò aggiungere al puzzle della lunga storia di Generali, non ci sarà anche quel giorno in cui avrò assistito a Venezia all'evento di riapertura delle Procuratie Vecchie, la nuova casa di The Human Safety Net.