Paola Sapienza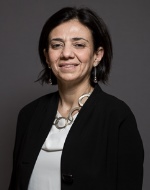 Independent Director
Non-executive Director
Member of the Related Party Transactions Committee
Member of the Investments and Strategic Operations Committee
Born in Catania on 19 March 1965.
Career
Paola Sapienza has been a member of the Board of Directors of Assicurazioni Generali since April 2010.
After graduating in political economy at Bocconi University, Milan, she continued her studies at Harvard University where she obtained a master's degree and a PhD in economics. She worked at the Bank of Italy research department and then started her academic career in the USA. She was elected director of the American Finance Association in 2011 for a three year term.
She is specialized in different fields including corporate governance, business finance and banking economics, and has written numerous publications. For the impact of her academic research she has been included in the Thompson Reuter list of the most influential scientific minds in 2014, 2015, 2016 and 2018.
RELEVANT POSITIONS ACCORDING TO OUR DIRECTORS OVERBOARDING POLICY
She does not hold any relevant positions according to our Directors Overboarding Policy.
OTHER POSITIONS
She is the Donald C. Clark/HSBC Chair in Consumer Finance Professor at the Kellogg School of Management
Research Affiliate of the Center for Economic Policy Research (CEPR)
Research Associate at the National Bureau of Economic Research (NBER)
Board member of AFFECT (Academic Female Finance Committee) of the American Finance Association

For additional info see also the Linkedin profile.