Italy
Generali confirms its leadership position in the Italian insurance market with an overall share of 16.2% as it can rely on a complete range of insurance solutions for its clients in both the Life and P&C segments.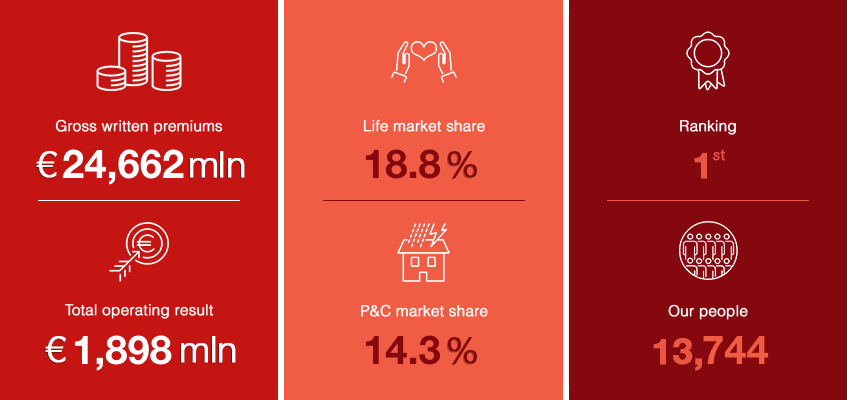 Data at 31.12.2019. The indicated market shares and ranking, based on written premiums, refer to the most recent official data.
Italy
Gross written premium
€ 24,166 mln
Total operating result
€ 1,772 mln
Life market share
17.3%
P&C market share
14.1%
Ranking
1°
Our people
13,150
At the distribution level, a multi-channel strategy strongly hinged on agents continues. It has a strong position in the direct Life and P&C channel, through Genertel and Genertellife, the first online insurance launched in Italy. Thanks to its partnership with Banca Generali, the Group is able to offer its customers a broad and complete variety of insurance, pension and savings products. Generali presents itself to the Italian market with three distinct brands marked by a clear strategic positioning - Generali (retail market and SME), Alleanza (households) and Genertel and Genertellife (alternative channels).

During 2019, Generali Italia continued to implement its simplification programme with the goal to improve the customer experience by simplifying the relationship between customers and agents for the entire process by providing more and more accessible and innovative services. Furthermore, in 2019 Jeniot, a company launched by Generali Italia at year-end 2018 that develops innovative services in the Internet of Things and connected insurance area tied to mobility, home, health and work, continued to grow.
The Human Safety Net: Ora di Futuro
Within The Human Safety Net, the Group's global initiative for the society, Generali Italia launched Ora di Futuro, an innovative project for educating children and families that involves teachers, primary schools and non-profit networks throughout Italy. The purpose is to help families and to sustain responsible growth of their children.
Key Events in Italy

2013 - Incorporation of the major insurance activites and stakes in the Group in Italy: Generali Italia S.p.A. is launched.
2016 - Inauguration of the Innovation Park in Mogliano Veneto. The three-year simplification programme 2016-2018 is presented.
2018 - Launch of the new range of "Imagine with Generali" products, new generation of insurance product.
Group Structure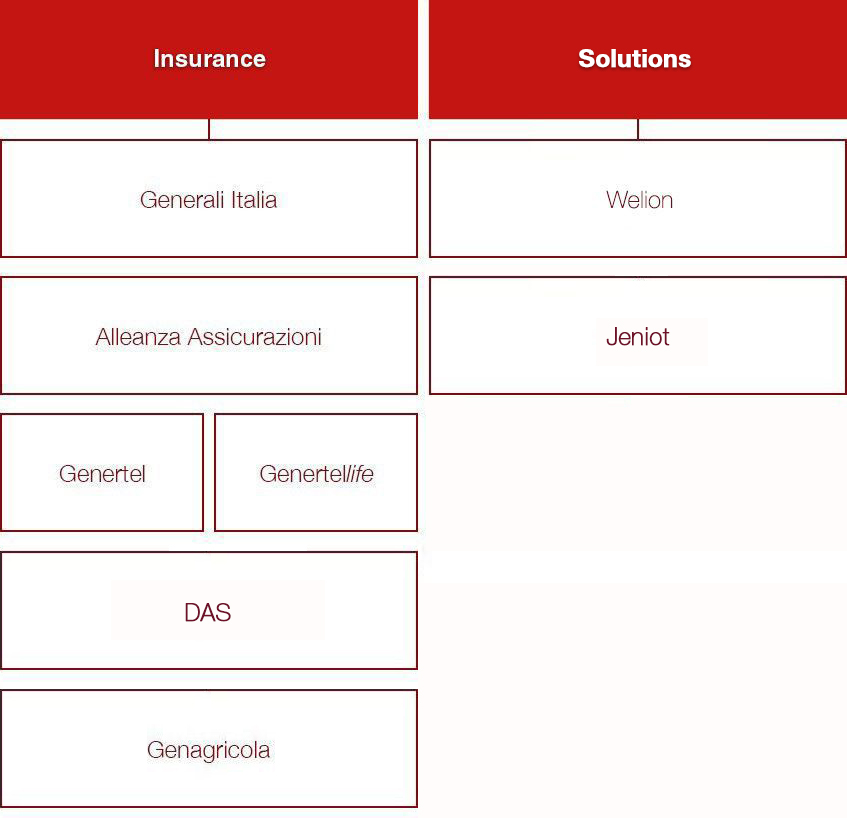 MANAGER IN CHARGE

The Country Manager for Italy is Marco Sesana.

MAIN GROUP COMPANIES

Generali Italia (www.generali.it)
"Generali Italia" is the company that - effective from July, 1 2013 – has been set up out of the transfer of the Assicurazioni Generali S.p.A.'s insurance business to INA ASSITALIA S.p.A., which in turn has been renamed "Generali Italia S.p.A". Since 2015 only three Group companies operate in Italy: Generali, Alleanza and Genertel.

Alleanza Assicurazioni (www.alleanza.it)
Company dedicated to Italian families, with its network of direct producers and a production mainly concentrated in Life products.

Genertel (www.genertel.it)
Genertel is the direct insurance company of Generali Italia with headquarter in Trieste. The company has been operating since 1994 and was the first Italian company to utilize the telephone channel to sell auto insurance. Nowadays it's among the first players in direct insurance in Italy.

Genertellife (www.genertel.it)
Genertellife, located in Mogliano Veneto, is with effect from February 2009 the new name of " La Venezia Assicurazioni", which started its life insurance activity back in 1987. Genertellife is the first company in Italy to offer life products and pension schemes directly via internet and telephone. Together with Genertel, it's the only insurance hub able to provide via direct channels a wide product offer that ranges from Life and Non Life products to pension schemes.

DAS
DAS is the most important international brand in the field of legal protection insurance. The Company, with over 10 million customers, is present in more than 10 countries and its gross written premiums are more than 1 billion euros. In Italy, the solidity of DAS is strengthened by belonging to two important insurance companies: Generali Italia and Gruppo Ergo (Munich Re).

Genagricola (www.genagricola.it)
Genagricola is Assicurazioni Generali's agro industrial holding, operating in various agricultural areas. In Italy, it's the largest agri-food company by area of crops, and in Europe it's among the biggest ones. The wine sector in particular plays an important role for Genagricola thanks to continuously expanding markets and high quality award-winning wines.

Welion is the new company of Generali Group for the combined welfare services. From health to the flexible benefits, a lot of innovative and easy solutions to give more value to families, employees, companies. Our cutting edge proposals are based on a system of modern technology, also through strategic partnership with startups.

JENIOT
Generali Jeniot is the new company, 100% Generali Italia, aimed at developing innovative services in the Internet of Things and Connected Insurance area, tied to mobility, home, health and work.