Germany
Generali has been active in Germany since 1837. The Group ranks among the top insurers in the market in terms of total premium income thanks to a 7% market share in the Life business (also including the health business), in which it plays a leadership role in the term-life segment, and a 5% P&C share, distinguished by an innovative and highly profitable offering.
Data and information by geographical area reflect what reported in the Annual Integrated Report and Consolidated Financial Statements 2021.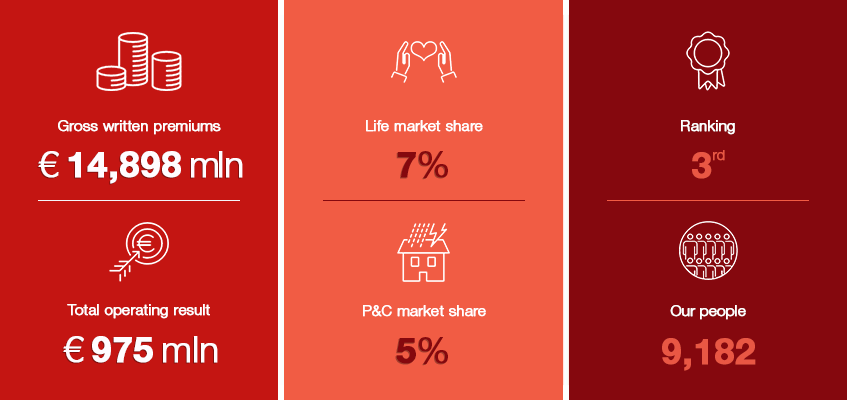 Data at 31.12.2021. The indicated market shares and ranking, based on written premiums, refer to the most recent official data.
Germany
Gross written premium
€ 14,898 mln
Total operating result
€ 975 mln
Life market share
7%
P&C market share
5%
Ranking
3rd
Our people
9,182
In 2021, Generali Deutschland improved its performance further thanks to the disciplined execution of its strategy with the aim of being the leading insurer in Germany in terms of profitable growth, return on capital, and innovation, in accordance with the Group's strategic plan. An innovative platform of products and services that define the new industry standard, as well as a careful technical and operating discipline, contributed to Generali Deutschland's excellent results. This allowed the Group to improve its profitability further in Germany, despite the very challenging context characterised by the Covid-19 crisis, exceptionally impactful natural catastrophes, and prolonged very low interest rates.

Key support –to both premium income and profitability – was provided by the distribution network DeutscheVermögensberatung (DVAG). Generali owns 40% of DVAG's shares. Composed of approximately 18,000 full-time agents, this network has an exclusive agreement with the Generali Group to sell insurance solutions, and is able to successfully combine qualified advisory, 360-degree knowledge of customer needs, and digital tools that enable a very effective interaction with customers.

According to its strategic goals, in 2021, Generali Deutschland continued to strengthen its market positioning thanks to not only the DVAG network, in which it operates with the Generali brand, but also the CosmosDirekt brand, targeted at the digital channel, in which the Generali Group boasts a leadership position in Germany. The niche brands Dialog and Advocard complement the commercial portfolio.

The Generali Group's ambition is to transform the classical insurance concept into protection, prevention, and partnership with the customer. As a result, in 2021, Generali Deutschland launched in the German market new products which, by making use of the most advanced technologies, assist clients in adopting healthy and sustainable practices and lifestyle, thereby contributing to prevent future claims. A few examples are: The program developed with Movendo Technology to prevent accidental falls thanks to robot- and A.I.-assisted training; VitalSigns&Care, an app that enables the self-monitoring of certain vital signs, such as the blood oxygen rate, via only a smartphone camera; "Digitalen Blutdruck-Coach", an app that optimises blood pressure.

Throughout last year, Generali Deutschland consolidated its positioning as a leader in terms of environmental and social responsibility. In particular:
Generali Deutschland's business operations are "climateneutral" since end-2021;

The insurance business activities will be "climateneutral" and all the new investments will be carbon-free starting from 2025;

The entire investment portfolio will be carbon-free by 2050.
Through its program The Human Safety Net (THSN), in 2021 too, Generali Deutschland helped families in challenging conditions and refugees, counting on the support of 12 non-governmental organisations and social enterprises across the whole country. Last year, the pandemic continued to impact the most disadvantaged people severely. Generali Deutschland offered financial support to refugees willing to start a business, helped non-governmental organisations digitise their services and gave the chance to disadvantaged families to attend special educational and leisure programs. This was made possible by, among other factors, the €750,000 donated by Generali Deutschland's colleagues to Caritas. In 2021, additionally, the highest-ever participation by colleagues in THSN volunteering initiatives was registered, to which new digital formats contributed. Last, Generali Deutschland signed deals with partners and contributors including the German Ministry of Education and Research and the Schöpflin Stiftung, with the aim of expanding its initiatives in cities like Cologne and Saarbrücken.
Key Events in Germany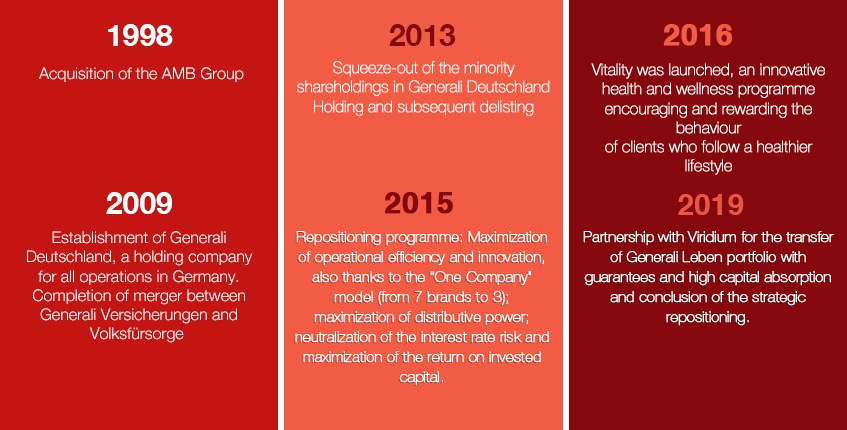 1998 - Acquisition of the AMB Group
2009 - Establishment of Generali Deutchland, a holding company for all operations in Germany. Completion of merger between Generali Versicherungen and Volksfürsorge.
2013 - Squeeze-out of the minority shareholdings in Generali Deutschland Holding and subsequent delisting
2015 - Repositioning programme: Maximization of operational efficiency and innovation, also thanks to the "One Company" model (from 7 brands to 3); maximization of distributive power; neutralization of the interest rate risk and maximization of the return on invested capital.
2016 - Vitality was launched, an innovative health and wellness programme encouraging and rewarding the behaviour of clients who follow a healthier lifestyle.
2019 - Partnership with Viridium for the transfer of Generali Leben portfolio with guarantees and high capital absorption and conclusion of the strategic repositioning.
Group structure

MANAGER IN CHARGE

Since September 2022, with the new organizational structure, Giovanni Liverani serves as CEO Germany, Austria and Switzerland and Stefan Lehmann is Country Manager for Germany.

Until August 2022, Giovanni Liverani held the role of Country Manager for Germany.
Main Group companies

Generali Deutschland (www.generali.de)
Company headquartered in Munich
Exclusive distribution agreement with Deutsche Vermögensberatung (DVAG), the biggest and most successful autonomous financial/ insurance sales organisation in Germany with 18,000 full-time salespeople
One of the market leaders in

term-life solutions and first company to successfully launch the Generali Vitality program

One of the market's best performing P&C players in terms of profitability
One of the most important health insurers in the German market

CosmosDirekt (www.cosmosdirekt.de)
The leading direct insurance company in the German market and in Europe, expanding online services and combining them with personalised advice

Dialog (www.dialog-versicherung.de)
Company specialised in biometric risks (term-life, professional disability), both for individual clients and for companies, and P&C solutions
Dialog is the Group insurer dedicated to brokers in Germany