France
Generali has been active in France since 1831 with one of the Group's first foreign branches.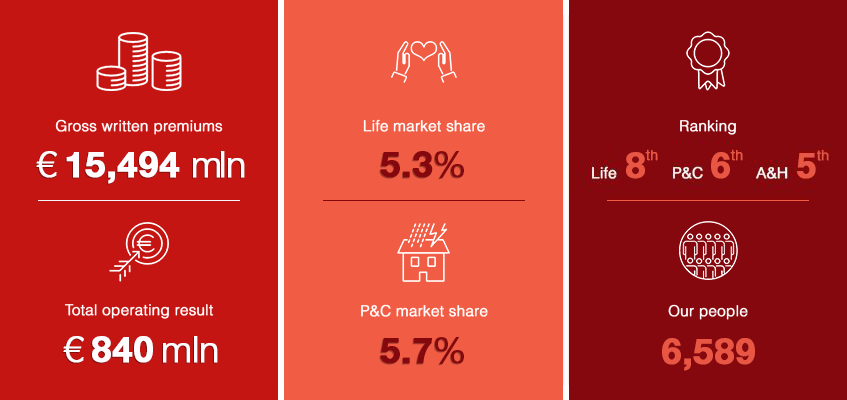 Data at 31.12.2019. The indicated market shares and ranking, based on written premiums, refer to the most recent official data.
France
Gross written premium
€ 13,274 mln
Total operating result
€ 805 mln
Life market share
5.1%
P&C market share
4.4%
Ranking
8° Life
8° P&C
5° A&H
Our people
6,818
The operating structure was consolidated toward the mid-2000s, when the merger of the various brands forming the Group led to the creation of one of the country's largest insurance companies. Generali France operates with a multi-channel approach of agents, employed sales persons, brokers, financial advisors, banks, direct channels and affinity groups. The multiplicity of the distribution forms reflects the market segment served and the type of product sold, with focus always placed on the customer. Generali France boasts a leadership position in savings Life products distributed through internet and for the so-called affluent customers, just as holds true in the market of supplementary pensions for self-employed workers. The presence of professionals, SMEs and personal risks in the segments is also significant.

Like in the main geographical areas where the Group operates, in France as well initiatives aimed for the most part at consolidated the bond of trust in customer relations through their lifetimes were taken in the perspective of strengthening the brand and the image throughout the country.
Furthermore, in 2019 the Group initiated a number of strategic initiatives in France as part of a project called Excellence2022 that envisages different streamlining and corporate business transformation actions over a three-year span. The main areas of intervention, also in terms of new investments, having - among other things - the purpose of increasing competitiveness in the country, are the Information Technology sector (Digital Transformation project), the claims management area and the costs sector, with rationalisation of the fixed structure costs. Considerable efforts are also put forth in the commercial area, with the objective of growing in the P&C market by diversifying the portfolio mix, and consolidation of the position in the savings sector by enriching the distribution of products with alternative and innovative formulas. This will be implemented on the one hand with actions to streamline the internal distribution network and, on the other, with development of external agency networks.
Key Events in France

1995 - Establishment of Generali France Holding
2003 - Acquisition of Continent Holding and Zurich Financial Service France
2006 - Merger of various companies (approximately 20) into 2 operating companies, Generali IARD and Gen
2015 - Merger through acquisition of E-cie Vie Legal Entity into Generali Vie Legal Entity
2018 - Beginning of "Excellence 2022" transformation plan
Group Structure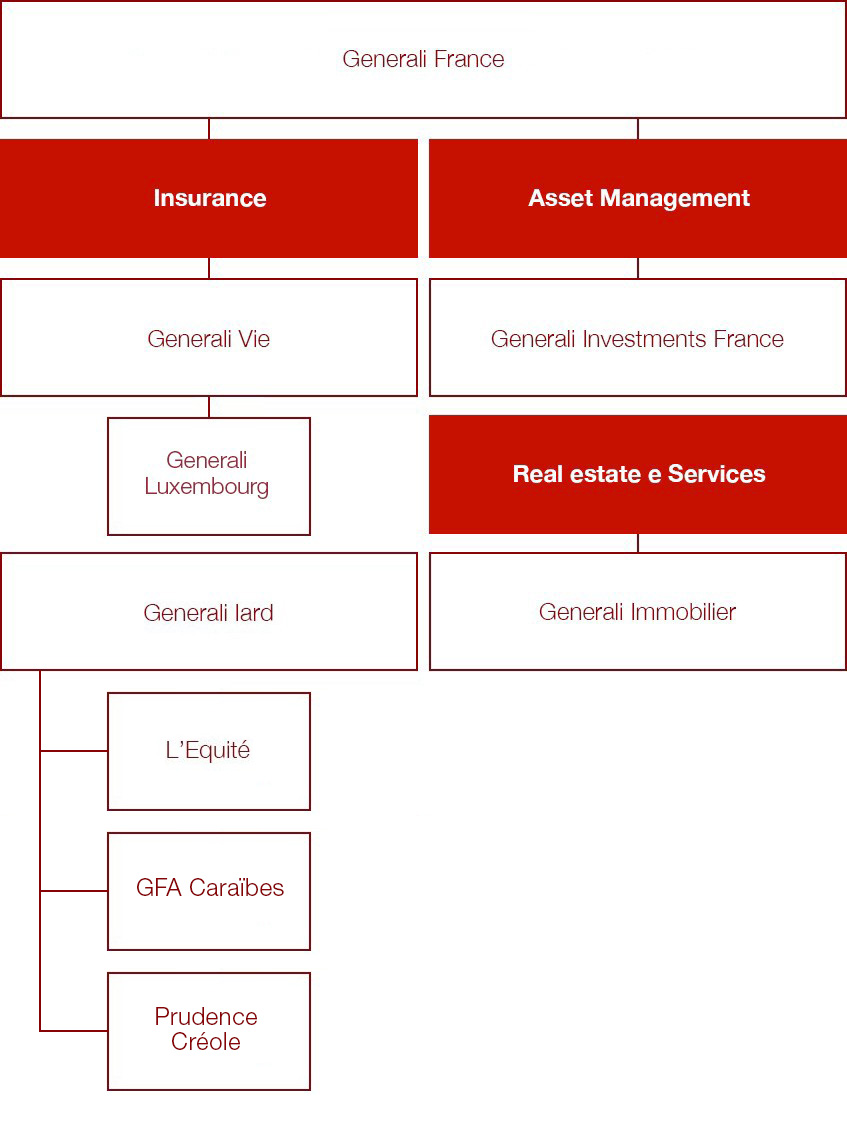 MANAGER IN CHARGE

The Country Manager for France is Jean-Laurent Granier.

Main Group companies

Generali Vie and Generali Iard (www.generali.fr) corporate (institutionnel.generali.fr)
Both operating companies are active through the following business units:
Retail, Middle Market and Corporate (both in Life and Non Life)
Epargne Patrimoniale and Internet (Life)

Generali Luxembourg (www.generali.lu)
Life products, Savings&Pension and Unit-linked, mainly for affluent customers