Europ Assistance & Global Business Lines
To meet the corporate sector's complex and diverse needs, the Generali Group has developed an insurance offering platform unique to the market.

EUROP ASSISTANCE
Established in 1963, EA, which falls within the scope of responsibility of the Country Manager France, is one of the leading global brands in the field of private assistance. Today it is present in over 200 countries and territories, supported by its 43 assistance centres and its network of 750,000 partner suppliers. EA offers insurance coverage and assistance in the travel sector, the automotive area with road-side assistance, and personalised coverage for assisting the elderly, cyber-security, home, medical and concierge services. In 2021, the EA Group's total turnover came to € 2.0 billion, up by 24% compared to previous year, thanks to growth achieved over all its business lines. The travel insurance line, that had been particularly hit by Covid-19, benefitted from new partnerships and also from international travel recovery and the increase in travelers' need for cover.
EA's ambition is to strengthen its international, multiline and multichannel strategy to pursue growth and to be the most reliable care company in the world.
GLOBAL BUSINESS LINES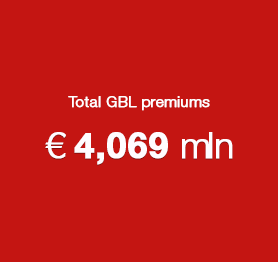 Figures as at December 31, 2021
Generali Global Business Lines (GBL) support companies of global reach with a complete insurance offer. The GBLs include two units: Generali Global Corporate & Commercial and Generali Employee Benefits, which offer medium to large companies flexible and smart insurance services and solution in the Life and P&C segments, health protection and pension plans for local and global employees of multinational companies. Generali Global Business Lines have collected a total premium volume of € 4,069 million in 2021.

From September 2022, with the new organizational structure, the Global Business Lines comprehend Generali Global Corporate and Commercial, Generali Employee Benefits and Arte Generali.

Global Corporate and Commercial (GC&C)
GC&C offers medium to large companies and intermediaries in over 160 countries around the world, insurance solutions and P&C services. Backed by its solid global experience and knowledge of the local markets and of the corporate sector, integrated solutions that can be personalised in properties, casualty, engineering, marine, aviation, cyber and specialty risks are offered. Furthermore, GC&C guarantees companies the same level of assistance and protects everywhere in the world through its Multinational Programs, Claims and Loss Prevention experts. GC&C has collected a total premium volume of € 2.5 billion in 2021.

Generali Employee Benefits (GEB)
GEB is an integrated network, which operates through the Luxembourg branch of Assicurazioni Generali, and provides services to employees of multinational companies consisting of protection, life and health coverage, and pension plans for both local and expat employees. Located in 126 countries,with 330 coordinated multinational programmes and 47 captive clients, GEB is one of the market leaders for multinational companies with premiums volume of € 1.6 billion.
MANAGER IN CHARGE

From September 2022, with the new organizational structure, Jean-Laurent Granier serves as Country Manager France, Europ Assistance & Global Business Lines.