Beyond the horizon
The future risk landscape: managing emerging and sustainability risks contributing to enhance societal resilience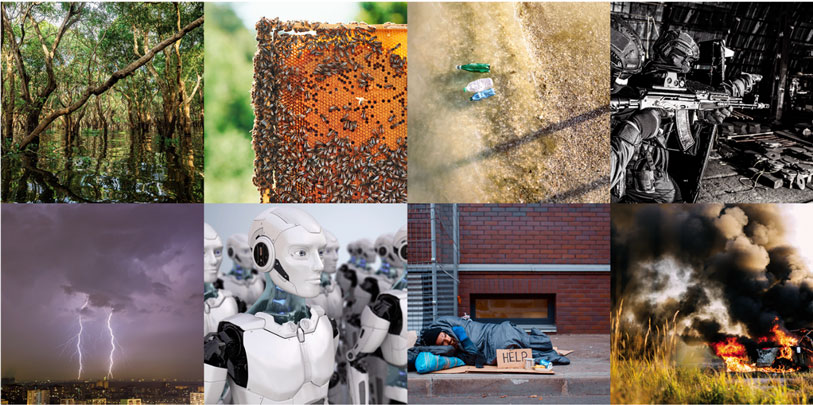 Newly emerging trends, with a consequent shift in the market sentiment, are reshaping the external globalised context.
These represent new challenges for society and for every industry, influencing people lifestyle and the way of doing business and leading to new (emerging) future risks.
Predicting and understanding adverse outcomes of risks has always been the key insurance role with the purpose to provide protection.
In a complex evolving risk landscape, the risk management function scans the external environment through a rigorous analysis of the emerging risks that can arise from the political, economic, social, technological, legal and environmental evolution.
Understanding and evaluating emerging risks is a crucial and complex task that relies on long-term analysis and comprehension of underpinning uncertainties and interconnectivity among risks. Managing future risks means adopting forward-looking what if and scenario analysis.
A valuable example of emerging risks' interconnectivity and unpredictability has been shown during the COVID-19 pandemic that has reshaped the global risk landscape at an unexpected speed, with broader implications in each and every sector, generally exacerbating risks exposure, as was the case for the Cybersecurity for example, but also for a number of vulnerabilities, that have been perceived differently than in the past.
In this rapidly evolving landscape, insurers' role in society is core in contributing to risk information and protection. Also, the increasing stakeholders' attention on sustainability not only leads undertakings to gauge the impacts deriving from Environmental, Social and Governance factors on their own risk profile, but also to evaluate the impacts generated by their own operations, investment and underwriting practices.

At this stage, the insurance sector plays a "unique" role in supporting societal resilience to the new sustainable environment, both as traditional insurance coverage provider and as one of the major institutional players able to generate a positive impact on environment and society (notably on climate change, biodiversity degradation, pandemics and extreme events and ageing and new welfare1).
1 For further details, please refer to the Group Materiality Matrix published in the Annual Integrated Report and Consolidated Financial Statements 2020 (p.5)