Emerging risks
The past couple of years have shown that the world may change rapidly and in unexpected directions. Thinking rapidly, depicting possible futures and facing the unknown is therefore fundamental.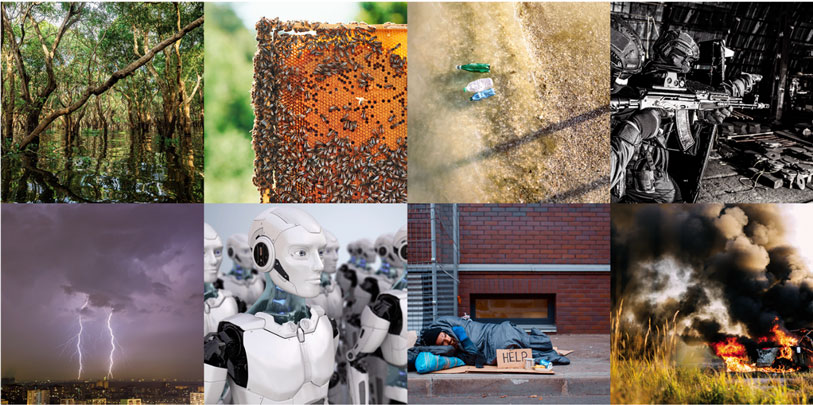 In this changing environment, awareness and preparedness are key. For this reason, insurers shall turn their gaze towards the future, looking beyond current events and scanning the external context to anticipate those emerging risks that may not be evident today but might significantly affect tomorrow.

The past months have been characterised by an unstable geopolitical landscape with important social and macroeconomic consequences. While the countries were expecting to recover from the Covid-19 pandemic, the 2022 Russia's invasion of Ukraine has overturned all forecasts. At the same time, the awareness around the threats faced by our planet is increasing as the fear of passing the point of no return arises, leading institutions, regulators and the general public to turn their attention towards a green and nature-positive transition.

Within this context, social changes are also occurring, such as the ageing of the people in developed countries and migration flows. Last but not least, more and more innovative technologies are entering every facet of society, opening the gates to new opportunities and benefits for all sectors, reshaping the economy but also our everyday lives, posing increasing and unknown concerns.

As of today, Generali's analysis confirms four emerging risks to be our main concern: Climate change and natural disasters, Geopolitical instability, Digitalisation, Demographics and social changes. More risks are continuously arising, from Biodiversity, to Mental health, together with other environmental, social and technological trends. Also, given the geopolitical and macroeconomic situation, a deep dive has been introduced on Critical infrastructures and supply chain failures.

For further insights, the 2023 edition of the Generali Emerging and Sustainability Risks Booklet is available for download below.
Download