Working with our suppliers
We work in an increasingly complex global arena, where establishing a network of lasting and mutually beneficial relationships with qualified contractual partners is crucial to maintaining consistently high standards of products and services quality, which in turn ensures a competitive advantage for the Group.
Our main contractual partners are service providers linked to our core business, plus a smaller number of goods suppliers and providers of support services (such as cleaning, maintenance, transport, etc.).
For Generali, developing relationships is a strategic goal; both with local and national suppliers that can provide goods and/or services and support the Group to meet specific local needs and with international and global suppliers that can help us to compete in the international market, by offering products and services that create a long-term competitive advantage in terms of cost and quality.
For both local and global supplies, we select and use the most reliable suppliers and those that enable us to limit the impact of our business activities on the environment along the entire supply chain. To this end, we favor suppliers that have social responsibility policies and apply an eco-friendly approach, such as using green technologies and procedures, or offsetting emissions associated with the services they provide.
Generali Group aims at working with suppliers and external parties who share Generali Values, committed to promoting respect of the global environment, the human rights, labour rights, safety, quality and any factors which contribute to the overall welfare of society.

To this end we have selected an external provider that will ensure an impartial assessment of our Suppliers' commitment on ESG matters, identifying potential areas of improvement for the Supplier, in order to strengthen our partnerships, sharing the same values.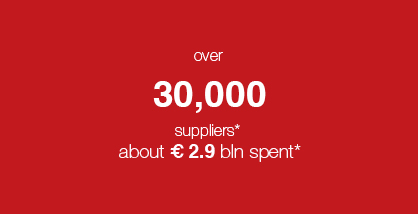 Communicating with Group Procurement
Any supplier wishing to contact Group Procurement can email directly regarding:
inquiries related to supplier's qualification and evaluation
inquiries related to Procurement procedures
any other supplier or procurement related questions (i.e. accounts payable, processes, contacts, etc.).
Reporting concerns and warnings about procurement's practices and conducts
Any supplier wishing to report a concern or warning related to procurement practices or conduct that are, in good faith, considered - even potentially - as inappropriate or inconsistent with the law, the "Code of Conduct" or other internal regulation, are invited to choose one of the whistleblowing channels detailed under the Code of Conduct section.
*The estimated data refer to suppliers other than those involved in the claims management and included in the following scope: GHO, Italy, France, Germany, Spain, Austria, Switzerland, Europ Assistance (HO,Italy), GIE, GSS, GRE Italy, GRE Germany, GRE Spain, GRE Austria, GRE France, CityLife, UK, Romania, Czech Republic, Croatia, Bulgaria, Hungary, Poland, Serbia, Slovakia, Slovenia, Argentina, Brazil, China, Hong Kong, Indonesia, India, Japan, Malaysia, Philippines, Thailand, Vietnam

**The following categories are not taken into consideration in the spend scope: Rental, Regulators & Association fees, donations and entertainment expenses, Non-cash bonuses related to sales performance of agents, Public Relations, Sponsorship, Claims, Other Expenses (Corporate Insurance Services, Taxes and Other dues, Directors and Auditors Fees and Allowances, Notary services (no Real estate), Internal Post Up, Other HR expenses (clothing, etc))