Generali reminds me of my little treasure
I joined Generali as an employee at the time my little daughter was born, my little treasure who reminds me every day how important this change was for me. The change is that since then I have not only been responsible not only for myself, but also for my daughter whom I want to raise to be an honest and hardworking person one day. As it grows, it will be seven years old now.It also reminds me of how quickly time passes and things change around us.

I am also guided by these values in the Generali insurance company, which treats its customers fairly and is an honest and important partner for the company itself and its employees. I work in claims, so I am in contact with Generali's customers every day.

We are currently facing a big change that I am looking forward to - the merger of the Czech and Slovak Generali to create a strong and inspiring company where it will be a pleasure to work. I enclose a photo to express my joy about my daughter and the work that inspires and entertains me, and the joy about our insurance companies coming together. I also have it as my desktop wallpaper to remind me of my daughter and the important company I get to work for.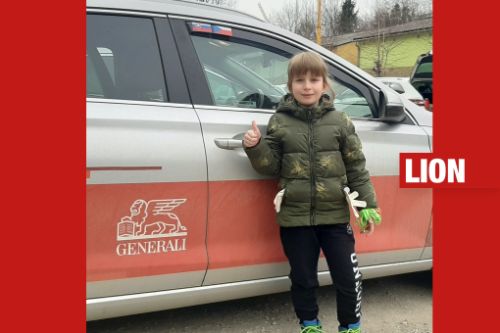 Read the story in original language
Generali mi pripomína môj malý poklad
Do poisťovne Generali som nastúpil ako zamestnanec v čase keď sa mi narodila moja dcérka, môj malý poklad ktorý mi každý deň pripomína aká dôležitá pre mňa to bola zmena. Zmena v tom že odvtedy som nemal zodpovednosť len za seba ale som zodpovedný aj za dcérku ktorú chcem vychovať tak aby z nej bol raz čestný a pracovitý človek. Ako rastie, bude mať už sedem rokov pripomína mi to aj ako rýchlo beží čas a menia sa veci okolo nás.

K týmto hodnotám som vedený aj v poisťovni Generali kde sa čestne a férovo jedná s klientmi a sú dôležitým partnerom pre samotnú spoločnosť aj jej zamestnancov. Pracujem na likvidácií takže som každý deň v kontakte s klientmi poisťovne Generali.

Momentálne nás čaká veľká zmena na ktorú sa veľmi teším - spojenie českej a slovenskej Generali aby sa vytvorila silná a inšpirujúca spoločnosť v ktorej bude radosť pracovať. Prikladám fotku na ktorej vyjadrujem moju radosť z dcérky a práce ktorá má inšpiruje a baví ma a radosť z toho že sa spoja naše poisťovne. Mám ju aj ako pozadie pracovnej plochy aby mi pri práci pripomínala dcérku aj významnú spoločnosť  v ktorej môžem pracovať.