Generali with the Pandemic Heroes
Responding to a pandemic was not what I had in mind when I accepted the challenge of leading Generali Spain as CEO in 2014.

As an insurer, we are all very used to assessing risks, as well as designing and executing action plans in the face of extraordinary adverse situations. Pandemics, however, were critical situations of other past times, truly unimaginable in the 21st century today.

But at the end of January 2020, and more specifically in February, we suddenly realised that we were on the verge of an unprecedented public health crisis. However, before the pandemic was declared in our country, we were able to activate our contingency plans and set up a crisis committee to approve the first measures that would ultimately prove essential.

Unfortunately, at the beginning of March, Madrid became the next European hotspot to claim more victims of the pandemic. In a very short time, the virus was spreading through the city and we had to prepare for an extreme situation.

At that time, 95% of Generali's employees were working on-site, and we decided to conduct a stress test to see if our information system and processes would allow the entire workforce to work from home. On 11 March, we passed this test with flying colours and saw that all our efforts to develop digitalised processes had reached a level of maturity sufficient to keep us fully operational even in the most adverse circumstances.

During the same week, the number of infected people grew and COVID patients overwhelmed health services and intensive care units. Rapidly, the pandemic was spreading throughout the rest of the country and resources were becoming insufficient. On March 14, the Government declared a nationwide state of alarm and the confinement of the entire population, suddenly paralyzing a very significant part of our economy.

Our main concerns from that moment on, and up to the present day, have been twofold: the health of our employees and collaborators, as well as the continuity of the business to meet the needs of our customers.

Throughout March, we discovered the terrible dimension of the health crisis and its very serious impact on the Spanish population. The Spanish health system, which until then had been one of the most solid and supportive in the world, was in critical condition. Intensive care units were overflowing with COVID-infected patients with severe respiratory problems, and the resources available were proving inadequate: there were not enough beds or ventilators for all the patients who needed them, there was insufficient protective equipment for healthcare workers, and the markets were unable to produce and distribute it at the necessary rate.

Inevitably, Spanish healthcare personnel, fully committed to dealing with this crisis, were subjected to an unprecedented situation of stress. The Spanish population saw in them the real heroes of the resistance and the fight against the pandemic. In marathon days, doctors, nurses, ambulance drivers, orderlies and other personnel had an open war against the pandemic.

Hundreds of them have been infected with the virus and on March 19 the first death by COVID of a healthcare professional was registered in Spain, a 52-year-old nurse.

In a totally spontaneous way, in all the cities of Spain, 20.00h became an appointment in which every day, all without exception, we dedicated the most emotional applause of gratitude we have ever heard, destined to our healthcare personnel, our heroes.

In the end, the number of healthcare professionals who have been infected by COVID in Spain would amount to 118,063 in 2020, one of the highest figures in the European Union.

Faced with this situation, the Executive Committee of UNESPA, the association of Spanish insurance companies, met immediately in the first days of the state of alert to evaluate the impact of the pandemic on the economy and the sector, and to identify initiatives to work effectively with society in such difficult circumstances.

Various proposals were discussed and we at Generali were particularly proud to approve the initiative we proposed: the creation of a completely free death and hospitalisation insurance policy for health workers affected by COVID 19.

After the measure was approved, a working group was set up with the effective and very active presence of GENERALI, which enabled the design of a group life and hospitalization insurance policy that would become the most important group insurance policy in the history of Spain, due to its magnitude and social implications.

38 million has been allocated to finance the payment of premiums for this group insurance, which will benefit more than 1 million people, including doctors, nurses, auxiliary nurses, orderlies, ambulance staff, etc., in both the public and private health care sectors, including health care staff in old people's homes, who were particularly hard hit by the first waves of the pandemic.

Generali's decisive role was recognised by the fact that it was one of the three companies that issued the three policies that set out the insurance cover for this group. It should be noted that the excess of premiums over claims will be allocated to social and research causes related to the fight against the pandemic.

A historic milestone in our country and among insurance companies that demonstrated the importance of the sector's solidarity action and its selfless contribution to the benefit of our society.

This was not GENERLI's only solidarity initiative in Spain. We have supported medical centers, our professionals, the self-employed and SMEs. And of course to the families at risk of exclusion due to poverty integrated in our THSN social action.

However, from a purely emotional perspective, I am always reminded of the courage and solidarity of our healthcare workers, which I believe is the greatest display of commitment I have ever witnessed..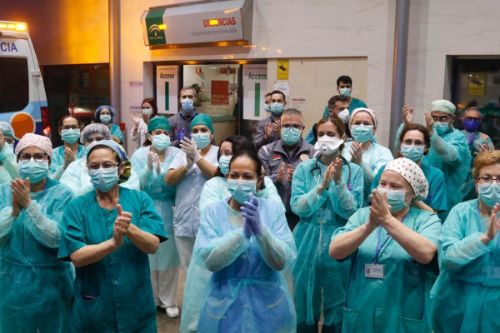 Read the story in original language
Generali con los héroes de la Pandemia
Cómo reaccionar ante una pandemia no estaba en mi imaginación cuando asumí el reto de dirigir Generali España como CEO en 2014.

Como asegurador, estamos todos nosotros muy habituados a evaluar riesgos, así como diseñar y ejecutar planes de acción ante situaciones extraordinarias adversas. Las pandemias, sin embargo, eran situaciones críticas de otros tiempos pasados, realmente inimaginables en la actualidad del siglo XXI.

Pero a finales de enero de 2020, y esencialmente en el mes de febrero, tomamos conciencia, de forma repentina, que estábamos a la puerta de una crisis sanitaria sin precedentes. Desde Milán nos llegaban noticias terribles que, sin embrago, nos permitieron activar, antes de que la pandemia se declarase en nuestro país, nuestros planes de contingencia y constituir un comité de crisis para aprobar las primeras medidas, que a la postre se mostrarían realmente esenciales.

Lamentablemente Madrid se convirtió, a comienzo de marzo, en el siguiente foco europeo en cobrarse más víctimas de la pandemia. En muy poco tiempo, el virus se expandía por la ciudad y teníamos que prepararnos para una situación extrema.

Por entonces el 95% de la plantilla de Generali trabajaba presencialmente y decidimos hacer una prueba de esfuerzo para comprobar si nuestro Sistema de Información y nuestros procesos permitirían que toda la plantilla trabajase desde su domicilio. El 11 de marzo superamos positivamente este test y comprobamos cómo, todo el esfuerzo en el desarrollo de procesos digitalizados había alcanzaba un nivel de madurez suficiente para mantenernos totalmente operativos, incluso en las circunstancias más adversas.

A lo largo de esa misma semana, el número de personas infectadas crecía y los enfermos de COVID colapsaban los servicios sanitarios y las unidades de cuidados intensivos. Rápidamente, la pandemia se expandía por el resto del país y los recursos se hacían insuficientes. El 14 de marzo el Gobierno declaraba el estado de alarma a nivel nacional y el confinamiento de toda la población, paralizando súbitamente una parte muy significativa de nuestra economía.

Nuestras principales preocupaciones a partir de este momento, y hasta la actualidad, han sido dos: la salud de nuestros trabajadores y colaboradores, así como la continuidad del negocio para atender las necesidades de nuestros clientes.

A lo largo de marzo, fuimos descubriendo la terrible dimensión de la crisis sanitaria y su muy severo impacto en la población española. El sistema sanitario español, que hasta ese momento se había mostrado como uno de los más sólidos y solidarios del mundo, pasaba por una situación crítica. Las unidades de cuidados intensivos se saturaron de pacientes infectados por COVID con serios problemas respiratorios y los recursos disponibles demostraban ser insuficientes: no había camas ni equipos de ventilación asistida para todos los pacientes que lo necesitaban, los equipos de protección del personal sanitario no bastaban y los mercados eran incapaces de producirlos y distribuirlos al ritmo necesario.

Inevitablemente, el personal sanitario español, volcado plenamente en hacer frente a esta crisis, quedó sometido a una situación de estrés sin precedentes. La población española vio en ellos a los auténticos héroes de la resistencia y la lucha contra la pandemia. En jornadas maratonianas, los médicos, enfermeros, conductores de ambulancias, celadores y restante personal tenían una guerra abierta contra la pandemia.

Cientos de ellos enfermaban del virus y el día 19 de marzo se registraba en España la primera muerte por COVID de un profesional sanitario, una enfermera de 52 años.

De forma totalmente espontanea, en todas las ciudades de España, las 20.00h se convierten en una cita en el que todos los días, todos sin excepción, dedicábamos el más emotivo aplauso de gratitud que jamás hemos escuchado, destinado a nuestro personal sanitario, nuestros héroes.

A la postre, el número de profesionales sanitarios que han resultado infectados por COVID en España ascendería a 118.063 en 2020, una de las cifras más altas en la Unión Europea.

Ante esta situación el Comité Ejecutivo de UNESPA, la asociación empresarial que agrupa las entidades aseguradoras en territorio nacional se reunió de inmediato en los primeros días del Estado de Alarma para evaluar el impacto de la pandemia en la economía y en el sector, así como para identificar iniciativas para colaborar de forma efectiva con la sociedad, ante unas circunstancias tan difíciles.

Se debatieron varias propuestas y desde Generali nos sentimos especialmente orgullosos al aprobarse la iniciativa que habíamos propuesto: constituir un seguro de fallecimiento y hospitalización, totalmente gratuito, a favor del personal sanitario afectado por COVID 19.

Tras aprobarse la medida, se constituyó un grupo de trabajo con presencia efectiva y muy activa de GENERALI, que permitió el diseño de un seguro colectivo de vida y hospitalización que se convertiría en el seguro colectivo más importante de la historia en España, por su magnitud e implicaciones sociales.

Para ello se contó con las aportaciones de las más de 100 aseguradoras nacionales hasta constituir un fondo de 38 millones de euros con el que se ha financiado el pago de las primas de este seguro colectivo del que se beneficiaría más de 1 millón de personas, entre médicos, enfermeros, auxiliares de enfermería, celadores, personal de ambulancias …, tanto del sistema de  salud público como privado, incluso el personal sanitario de las residencias de la tercera edad, que había sufrido el impacto de la pandemia, en la primera de sus olas, con especial virulencia.

El rol decisivo de GENERALI fue reconocido al ser una de las tres entidades abridoras de las tres pólizas en las que se articuló la protección aseguradora a este colectivo. Cabe señalar, que el excedente de las primas sobre los siniestros se destinará a causas sociales y de investigación vinculadas a la lucha contra la pandemia.

Un hito histórico en nuestro país y entre las aseguradoras que demostró la importancia de la acción solidaria del sector y su contribución desinteresada en beneficio de nuestra sociedad.

No ha sido esta la única iniciativa solidaria de GENERLI en España. Hemos apoyado a centros médicos, a nuestros profesionales, a los autónomos y a las pymes. Y por supuesto a las familias en riesgo de exclusión por pobreza integradas en nuestra acción social THSN.

Sin embargo, desde una perspectiva puramente emocional, no dejo de recordar la valentía y la solidaridad de nuestro personal sanitario que constituye, en mi opinión, la mayor muestra de compromiso que jamás he vivido.