If I had to name just one factor that I see as the key to the uninterrupted development of our insurance company, its successful history of the last 190 years, its professionalism and the recognition it has received from our customers and partners, I would put the strength of our community in first place, ahead of many other important values.

I have been CEO of Generali since 2011. I have been very inspired by the culture, the spirit and the sense of pride that I have encountered from the very first moment. The legacy of the former founders, the saying that has now become a household word, is that when we started, we had nothing to show to candidates except the dream of building a great insurance company here. The employees made this dream come true, and by 1999, within ten years, Generali had become a market-shaping and dominant player in Hungary, and in 2013 and 2014, Generali Insurance became the market leader at Group level, and in 2015, Generali Insurance alone. Success, of course, has many ingredients: good business decisions, identifying and exploiting market opportunities, unquestionable professionalism, continuous process improvement and an overriding customer focus. But these factors alone are not enough.

No perfectly thought-out, structured, invented business strategy can be successful without the identification of all members of our corporate community, without their willingness to act as individuals and as a community to achieve the goals. In today's digital world, we need this personal commitment even more, and I dare say that the human factor is stronger and more important than ever.

How can the power of community be felt? Alongside the developments, projects and business ideas, the extra charge that comes from this power shines through every time. The half-words between old colleagues, the recollection of shared experiences, the celebration of professional milestones, the atmosphere of events, the palpable enthusiasm for a new, challenging task, all build commitmen.

Of course, there are some moments that stand out for me. Like our first Red Day, #generalired, when we covered Generalis workplaces across the country in red. Or the first Come to Work with Me day, when there was a bit of uncertainty about how our community would take to a day of children's bustle disrupting the quiet weekdays at HQ. I still remember the good feeling I got from the many, many positive feedback letters. But it's also a great experience that in today's covide-ridden world, in November, in order to recharge and relax our colleagues, we organised a series of online events called THE RED BROWN OF YOU, where almost a thousand of us were present in our closed Facebook group of our Generali community. All these occasions and events confirm that we are in the best place: working as a team towards excellent goals.

I feel at home here and I am optimistic about the future. When great people come together, amazing things happen. Each brings unique energy, ideas and perspectives, but with a shared vision. It is a powerful force. Armed with that strength, we will continue our journey for the next 190 years!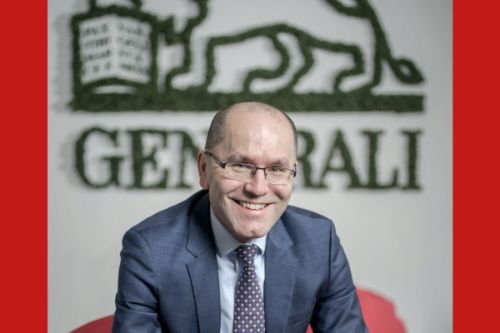 Read the story in original language
A közösség ereje
Ha csak egyetlen tényezőt kellene meghatároznom, hogy miben látom biztosítónk töretlen fejlődésének, elmúlt 190 éves sikeres történetének, szakmaiságának, az ügyfelek és partnereink általi elismerésének zálogát, akkor közösségünk erejét helyezném, a sok-sok további fontos értéket megelőzve, az első helyre.

2011 óta dolgozom a Generaliért vezérigazgatóként. Nagyon inspiráló volt számomra az a kultúra, szellemiség, és az a jó értelemben vett büszkeség, amivel az első pillanattól találkoztam. Az egykori alapítók öröksége, a ma már szállóigévé vált mondás, mely szerint az indulást követően nem tudtunk mutatni a céghez jelentkezőknek mást, csak egy álmot, hogy itt egy nagy biztosító épül. Ezt az álmot a munkatársak valóra váltották, és 1999-re, tíz év alatt a Generali piacalakító, meghatározó tényező lett hazánkban, majd 2013 és 2014-ben csoportszinten, valamint 2015-ben egyedül is a Generali Biztosító piacvezető lett. A sikernek természetesen számos összetevője van: helyes üzleti döntések, a piaci lehetőségek felismerése, kiaknázása, a megkérdőjelezhetetlen szakmaiság, a folyamatok állandó fejlesztése, a mindent átható ügyfélközpontúság. De ezek a tényezők önmagukban nem elegendők.

Egyetlen tökéletesen átgondolt, felépített, kitalált üzleti stratégia sem lehet sikeres anélkül, hogy a vállalati közösségünk minden tagja ne azonosulna vele, hogy ne lenne hajlandó egyénként és közösségként is tenni a megfogalmazott célokért. Mai, digitalizált világunkban még inkább szükségünk van erre a személyes elköteleződésre, sőt, bátran ki merem jelenteni, hogy az emberi tényező még erősebb és fontosabb, mint korábban bármikor.

Hogyan válik érzékelhetővé a közösség ereje? A fejlesztések, projektek, üzleti elképzelések mellett, mögött minden egyes alkalommal átcsillan az a plusz töltés, ami ebből az erőből fakad. A régi kollégák közötti félszavak, a közös élmények felidézése, a szakmai mérföldkövek megünneplése, a rendezvények hangulata, a tapintható lelkesedés egy-egy új, komoly kihívást jelentő feladat előtt továbbépítik az elköteleződést.

Vannak persze számomra különösen kedves, emlékezetes pillanatok. Mint az első piros napunk, a #generalired, amikor országszerte pirosba borítottuk a Generalis munkaállomásokat. Vagy az első Gyere velem a dolgozóba nap, amikor volt bennünk egy kis bizonytalanság, hogyan fogadja közösségünk a székházak nyugodt hétköznapjait felborító gyerekzsivajos munkanapot. Ma is fel tudom idézni azt a jóleső érzést, amit a sok-sok pozitív visszajelző levél jelentett. De ugyanilyen élmény, hogy ebben a mai Covid sújtotta világban, a kollégák feltöltődése, kikapcsolódása érdekében novemberben szervezett, A PIROS TÖRŐDIK VELED elnevezésű online rendezvénysorozatunk egy-egy eseményén közel ezren voltunk jelen a Generali Közösségünk zárt Facebook csoportunkban. Minden ilyen alkalom, esemény megerősíti, hogy a legjobb helyen vagyunk: kiváló célokért, egy csapatként dolgozunk.

Én itt otthon érzem magam és optimistaként tekintek a jövőbe. Amikor nagyszerű emberek jönnek össze, elképesztő dolgok történnek. Mindenki egyedi energiát, ötleteket és perspektívát hoz, ugyanakkor közös elképzeléssel rendelkezik. Ez egy hatalmas erő. Ezzel az erővel felfegyverkezve folytatjuk utunkat a következő 190 évben!