Europ Assistance: Anytime, anywhere
In May 1993, Paolo Rizzi was returning from the Caribbean with his friend Andrea Pribaz when they were surprised by a storm seven hundred miles from the Azores. The waves tore the Trieste-born skipper from the helm and ripped open the hull of his yacht. Rizzi and Pribaz, who escaped the shipwreck on a raft, were saved thanks to Europ Assistance, which promptly alerted the rescuers. Contributing to the rescue operations, was just a response to the company's vocation: to provide assistance in the event of an emergency.

The origin of Europ Assistance was, in fact, an equally dramatic event, which touched the Frenchman Pierre Desnos. In response to this episode he had the idea of founding the company. In 1962, the family of his closest friends had a tragic car accident in Spain, and Desnos rushed to their aid.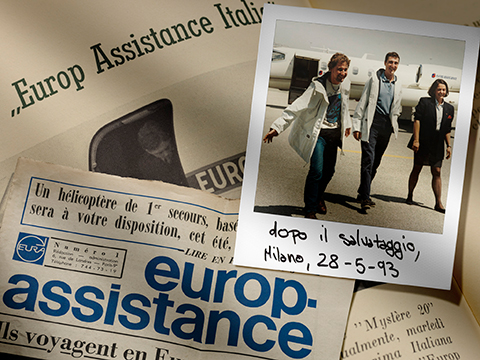 Testimonies of Europ Assistance's rescue operations (1960s-1990s)
Assicurazioni Generali Historical Archive
ph. Massimo Gardone
However, he had to act at a distance and in a foreign country, with all the difficulties this presented, not least that of language. The obstacles increased Desnos's struggles in an already inherently unpleasant situation. But Pierre was a visionary. Influenced by the event, he conceived of an organisation to assist anyone who found themselves in difficulty away from home, offering state-of-the-art medical assistance. On the 2nd of May 1963, in Paris, with the help of Concorde (a French company of the Generali Group) he set up Europ Assistance, for which assistance was intended as a constant activity to protect people while travelling. It was a new prospect, which no other insurance company had adopted until then. Thanks to Desnos's idea, Europ Assistance became a world leader in assistance services and, within a few years, it opened branches in several European countries, before extending its operating range to the whole world.

Generali recognised the potential of the project and became its main shareholder. In July 1968, Europ Assistance Italia was established, with the aim of guaranteeing Italian tourists comprehensive insurance assistance, 24 hours a day, against accidents that could affect them during their travels abroad.

Since then, Europ Assistance has supported countless trips and witnessed major political, technological, and environmental changes across the planet. But, in over fifty years of activity, it has never changed its approach, keeping as its key principles listening to customer needs and adapting to innovations to increase the types of services, in step with technological progress and often in advance of public requests. Generali worked in synergy with Europ Assistance to integrate customer service, as in the various risks sector of the Auto branch, and at the same time it also took care of its employees, stipulating in the early 1980s an agreement for business travel abroad for employees. The idea of mobility was changing, journeys were becoming more and more frequent for various categories of people, and a further development of Desnos's ideas generated services dedicated to the many aspects of daily life: from home care to financial activity, from legal protection to various aspects of the digital world (e-commerce, protection against identity theft or credit card number theft and so on).

The trust placed in Europ Assistance by travellers is demonstrated by its growth over time. Just looking at Italy, the premiums collected in 1995 recorded a 24% growth compared to the previous year with 113.1 billion lire, to rise by a further 4.3% the following year to 118 billion lire. In 2002, the revenue reached 158 million euros, there were 680 employees (over 20% of the Group total), 938,000 cases of assistance provided, 31,000 assistance centres (including 30 car/motorcycle manufacturers, 126 banks/credit card companies, 50 insurance companies, 3,300 travel agencies, 700 tour operators, and over 700 companies in the production and service sectors). In 2019, there were 867 employees and 3,345,497 calls received for 1,053,275 cases of assistance provided.

Leo Tolstoy wrote that ideas that have huge consequences are always simple. The idea of Europ Assistance is summed up in its motto: "You live, we care". Even in serious emergency situations, customers know they can find comfort and empathy in Europ Assistance, an immediate global response, and reliability and efficiency. And indeed, the trust produced by customer satisfaction is still today at the top of the selection criteria.