Growth factors
We live in a world of constant and rapid change where an insurance group like Generali plays a fundamental role, both through our ability to generate value and drive development, and our capacity to anticipate and overcome the current challenges.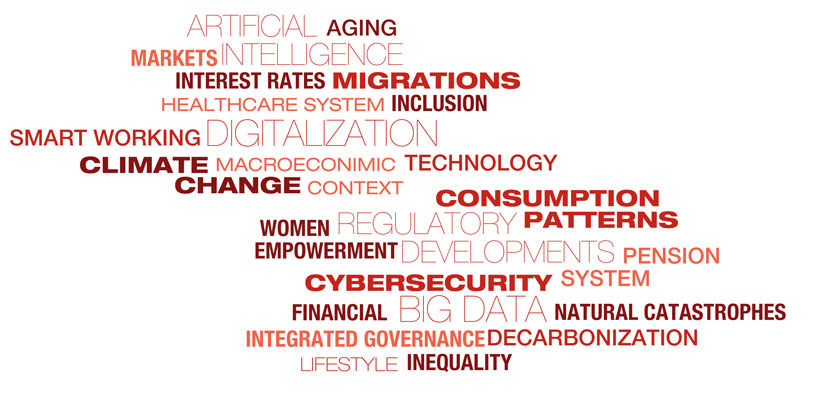 From the analysis of the context in which we operate and after listening to the parties affected by our activities, we have identified and itemised below the four most material mega trends that present significant risks and opportunities for the Group, for its value chain and for the stakeholders. We systematically assess the risks and guarantee that they are adequately monitored, and we also define our strategies and manage the activities while taking into account these challenges to protect our ability to create value over the years.

Geopolitical, macro-economic and financial instability, owed, among others, to the slowdown in global growth, trade tension between China and the US, the complex management of Brexit and the spread of the pandemic generated by the Covid-19.
Geographical diversification and selective focus on alternative investments and real assets continue to be important factors in our current investment activities that aim to contain portfolio risks and sustain current profitability.
The development of a multi-boutique insurance asset managers platform is part of the strategy to enhance the investment capacity in these market sectors.
We are exposed to the market risks arising from the value fluctuations of the investments and to the credit risks linked to the risk of counterparties' non-fulfilment as well as to expansion of the credit spread. We are handling these risks by following principles of sound and prudent management, in line with the Prudent Person Principle and with the Group Investment Governance Policy and risk guidelines. We also measure financial and credit risks using the Group's Partial Internal Model, which offers us a better representation of our risk profile.

Digital transformation and cyber security. We are facing a profound change guided by the interaction and the cumulative effects of various technological developments that contribute to creating a renewed environment in which to operate in order to optimize efficiency operations and proximity with customers. Technological evolution also involves exponential growth in cyber threats, such as attacks aimed at stealing information or blocking operational processes.
Thanks to specific tools and skill sets we formulate and analyse customer data - while guaranteeing anonymity - to enrich customer relations and be able to customize the offer and anticipate their needs. The increasing internal culture has made it possible to consolidate platforms that let us leverage synergies coming from the RPA and the cognitive technologies, thus allowing increasingly complex processes to be automated which increases quality and efficiency.
We are in step with the new technologies and are protecting ourselves from the new threats. We are continuing to enhance our ability to prevent, detect and respond to potential cyber-attacks while implementing the most innovative security solutions and constantly improving our response processes. Adequate management of this risk is in fact fundamental in order to limit potential effects of economic and operational nature but also to preserve, in particular, the confidence of customers in the processing of their data which are frequently sensitive.

Climate change, a material risk with potential more limited effects over the short term, however potentially catastrophic over the long term. Associated with this risk is a high degree of uncertainty in accurately determining a time frame and magnitude of the impacts, especially at the local level. The identified impacts can be classified as physical risks - determined by the change or intensification of weather phenomena, including extreme natural events - and transition risks - associated with the decarbonisation of the economy. The climate change mitigation and adaptation strategies present opportunities. A connected increase in demand for protection through specific solutions is plausible as weather phenomena and extreme natural events change or intensify. The new regulations in Europe aimed at creating incentives for transition to a green economy, together with the changes in consumer preferences, are also supporting the market of insurance products tied to the renewable energy sector, and this strengthens the demand for investment products linked to green finance and boosts demand for insurance solutions that accompany the customer in adopting sustainable lifestyles.
We have defined processes and tools to mitigate the risks and to seize the opportunities arising from climate change. These include monitoring the adequacy of the actuarial models to assess and rate risks, recourse to risk transfer mechanisms, periodical analysis of the investments, product and service innovation processes, dialogue with the stakeholders and development of partnerships in the sector to share knowledge and identify system solutions. In order to seize the opportunities, we have developed and promoted the distribution of insurance solutions to protect customers from natural catastrophe damage, including damage influenced by climate change, to support customers in adopting sustainable lifestyles and coverage for the renewable energy sector. We are also expanding the offer of thematic investment products linked to green finance for the retail segment as well as increasing our investments in green bonds and in sustainable infrastructure projects. We also issued our first green bond to finance or refinance projects relating to, for example, the improved energy efficiency of the Group's real estate assets in 2019; a second emission occurred in 2020.

Ageing population and evolving social security. In the more mature European economies, we are witnessing a continual process of population aging, driven by an increase in life expectancy and a decrease in birth rates. The international migration phenomena only partially counter-balance this trend, which is in any case otherwise influenced by socio-political initiatives adopted locally. the younger age groups are affected by a reduced and often discontinuous capacity to generate average income; this is strongly influenced by a flexible but precarious labour market that does not ensure reasonable certainty for financing the public welfare system. The result is increasingly unbalanced communities where higher post-retirement pension and healthcare requirements are no longer properly financed and covered by the public system.
The healthcare need naturally evolves towards increasingly sophisticated, hence costlier, supplies and services. At the same time, an enhanced awareness of the bond between health, lifestyles and the environmental context is developing thanks to both public social initiatives and greater proactiveness and promotion from private market.
Erratic local political choices are weighing on the solidity of the welfare systems.
We actively engage in creating more stable communities while monitoring and tackling the effects of a changing society. This is why we develop and offer flexible and modular pension and welfare solutions for the coverage of healthcare costs and other potential current and future needs for individuals, families and communities. We provide customers with complete and easily accessible information on products and services while helping them to understand the primary factors that may affect their income capacity and quality of life, and aiding them in accurately assessing their capacity to save as well as identifying their current and future needs. We manage the risks through underwriting processes that are based on an updated assessment of the socio-demographic conditions of the population. We also have solid pricing and product approval processes.
Generali's response to the four mega trends: