Austria, CEE & Russia
The ACEER regional structure is the fourth most important market for Generali, in which the Group has strengthened its presence up to becoming one of the top insurance companies of the entire area.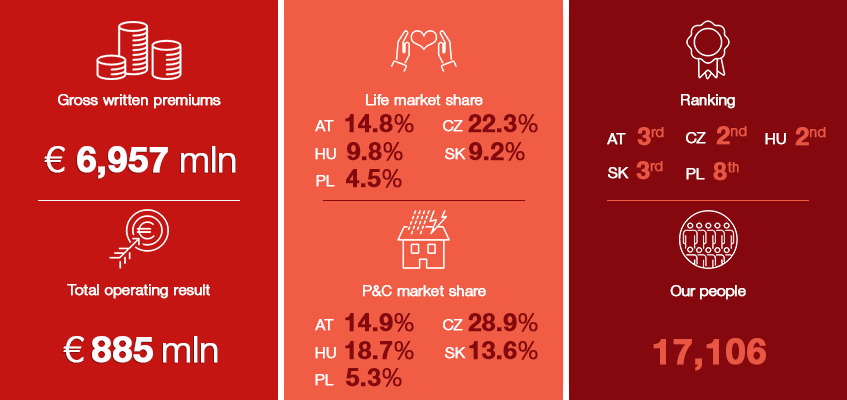 Data at 31.12.2020. The indicated market shares and ranking, based on written premiums, refer to the most recent official data.
Austria, CEE & Russia

Gross written premium
€ 6,982 mln
Total operating result
€ 916 mln
Life market share
AT 14.9%
CZ 22.6%
HU 9.9%
SK 9.5%
PL 4.2%
P&C market share
AT 15.3%
CZ 29.9%
HU 18.4%
SK 11.4%
PL 4.8%
Ranking
AT 3rd
CZ 2nd
HU 2nd
SK 3rd
PL 6th
Our people
17,477
12 countries included in the perimeter: Austria (At), Czech Republic (Cz), Poland (Pl), Hungary (Hu), Slovakia (Sk), Serbia, Montenegro, Romania, Slovenia, Bulgaria, Croatia and Russia.
The Group boasts its presence in the Eastern Europe territories since 1989. In 2008, a joint venture collaboration with PPF Holding started and ended in 2015, the year in which Generali acquired full control and powers over Generali CEE Holding.
The year 2018 was affected by several important events, such as the entry of Austria, where Generali has been present since 1832, the year after the company's foundation in Trieste, and Russia, where Generali is expanding. Also in 2018 Generali strengthened its presence in the CEE region with acquisitions in Slovenia (Adriatic Slovenica) and Poland (Concordia), in this way balancing and diversifying the portfolios, sales channels and presence in the area, and signed the collaboration agreement with Unicredit for the distribution of insurance solutions mainly concerning Credit Protection Insurance (CPI) in the entire region.

In 2019, the acquisition in Poland of Union Investment TFI S.A from the German group Union Asset Management Holding AG was completed and the agreement to acquire all Life, P&C and Mixed portfolios of three companies of ERGO International AG in Hungary and the Slovakia was concluded, in line with Group strategy. This operation will allow the cross-selling opportunities to be exploited through the customer base and to increase it.

In 2020 Austria completed the acquisition of SK Versicherung AG (founded in 1982 as a joint venture between a number of Austrian insurance companies), signing an exclusive 5-year sales agreement with ÖAMTC (Austrian automobile, motorcycle and touring club). Furthermore, the Group completed the acquisition of the Izvor osiguranje portfolio in Croatia.

The Group takes top rankings in the Czech Republic, Hungary, Serbia, Austria and Slovakia, and among the top ten in the other countries. In terms of volumes, main insurance markets are Austria, Czech Republic, Poland, Hungary, Slovakia and Slovenia. The contribution of the minor territories has improved during the last years, resulting in an increase of their gross written premiums on the total volume of the area. Lastly, Generali is leader in terms of technical profitability thanks to a medium-long term combined ratio lower than 90%.
Key Events in Central and Eastern Europe

1989 - Expansion plan launched in the area
1998 - Establishment of Generali Versicherung from the merger between Generali Leben and Erste Allgemeine in Austria
2008 - Creation of Generali PPF Holding, joint venture between Generali and PPF Group
2015 - Full control ofGPH. Company name changed into Generali CEE Holding
2018 - Creation of Austria, CEE & Russia Region to strengthen Generali's presence in markets where it already posts strong results
MANAGER IN CHARGE

The Regional Officer for Austria, CEE & Russia is Luciano Cirinà.

MAIN GROUP COMPANIES