Insurance Products with social and environmental value
As part of our range of solutions, we are committed to developing and promoting some solutions with high added value from a social and environmental perspective.

By their very nature, our insurance products have great social and environmental value as they constitute a concrete response to the protection requirements of customers and the growing needs of society, contributing to the prevention and mitigation of risks. However, there are products which, due to the type of customer protected or coverage supplied, have specific social or environmental characteristics.
As part of the Generali 2021 strategy, the Group was committed to increasing premiums deriving from insurance products with social and environmental value by 7-9% by 2021.

In the new Generali 2022-2024 Strategy we confirm our commitment to develop our Sustainable solutions, increasing our premiums by 5-7% CAGR in the next three years. We aim to connect, in this way, our value proposition to customers who want to positively impact the environment and the society.
Products of significant social value
products that respond to the needs of specific categories of customers or particularly unfortunate events in life, including products dedicated to the young, to the elderly, to the disabled, to immigrants, to the unemployed and to coverage for professional disabilities, or which in some way support and foster social inclusion; products that promote a more prosperous and stable society, with particular attention on small and medium-sized enterprises and people involved in voluntary work; products with high pension or microinsurance content
products that promote responsible and healthy lifestyles, leveraging on the opportunities provided by new technologies, on the importance of preventive healthcare or other virtuous behaviours of policyholders
products that supplement the public health service, designed to help manage the costs of treatment and assistance, as well as the reduction in earnings of customers in the event of serious illnesses or the loss of self-sufficiency.

To expand access to insurance protection, we have developed microinsurance projects. In India in recent years, agreements have been reached with leading microfinance institutions, which operate in rural areas, providing coverage to a large number of people on low incomes. In 2021, about 1.2 million people were insured.

In 2021, premiums of €18,144 million were collected from products with social value and the impact of products with social value on the total Group premium volume was 25.4%.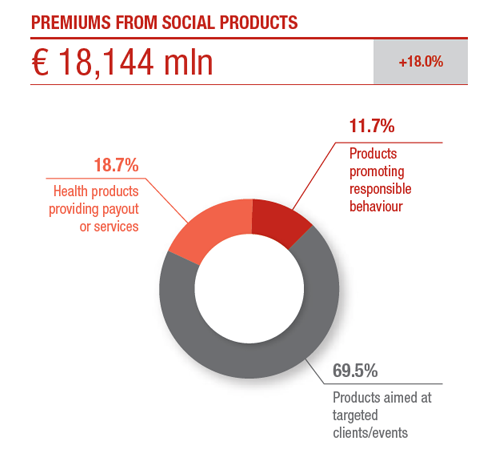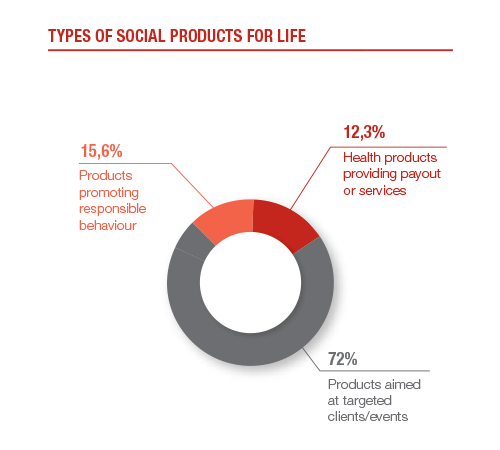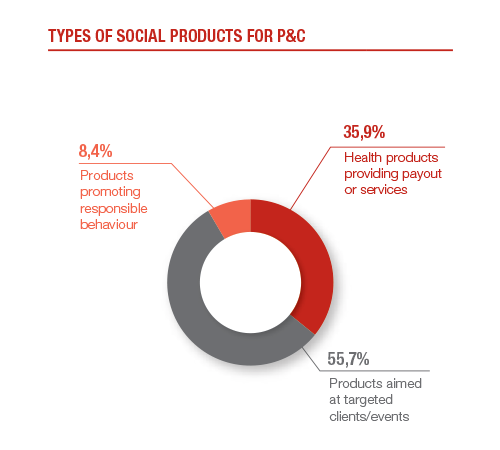 Products of significant environmental value
To encourage the adoption of environmentally friendly behaviours, we design and distribute products and services with specific environmental value:

products designed to promote sustainable transport with reduced environmental impact, including policies for electric and hybrid vehicles and policies that reward low annual mileage and responsible driving
products that support the energy efficiency of buildings, for which we also provide customer consultancy to identify opportunities for optimising domestic energy consumption
products for covering the risks connected with the production of renewable energies. The insurance policies covering equipment for the production of renewable energy guarantee compensation for damage caused to solar or photovoltaic panels, or similar equipment, by the weather. These policies may be expanded to include cover for lost profits following the interruption or reduction of electricity production
products specifically designed to cover catastrophe risks or specific environmental damage
anti-pollution products, such as third-party liability policies for pollution covering the reimbursement of costs for emergency or temporary measures to prevent or limit compensable damages.
In 2021, premiums of €1,750 million were collected from products with environmental value, with an impact from products with environmental value on total Group premium volume of 2.4%.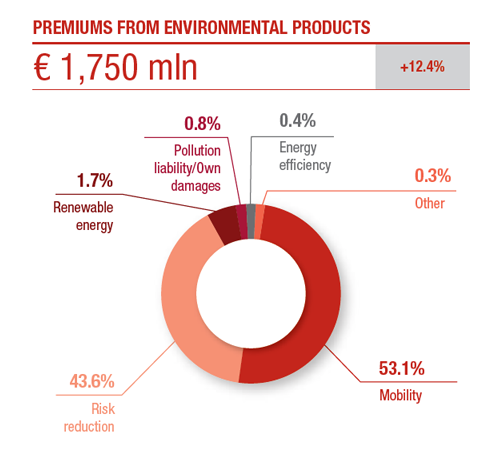 Given the strong emphasis that the Group places on these themes, an interfunctional working group was established with technical and socio-environmental expertise. This working group meets regularly to assess the adequacy of the definitions of products with social and environmental value.

The perimeter includes all subsidiaries of the Parent Company consolidated on a line-by-line basis.
* Premiums from social and environmental products refer to consolidated companies representing 99% of the Group's total gross direct written premiums.
As for premiums from environmental products, the premium from multi-risk policies covering NATCAT events only refers to the NATCAT guarantee. If the premium cannot be split into green-related component and other components, only the premium from the policies which are predominantly providing a green coverage or service is reported.