Sustainable Investing Strategy
The Group pursues the proactive integration of relevant Environmental, Social and Governance (ESG) factors into the investment, supporting the achievement of both financial returns and social good. For this reason, we defined a sustainable investing strategy based on four pillars: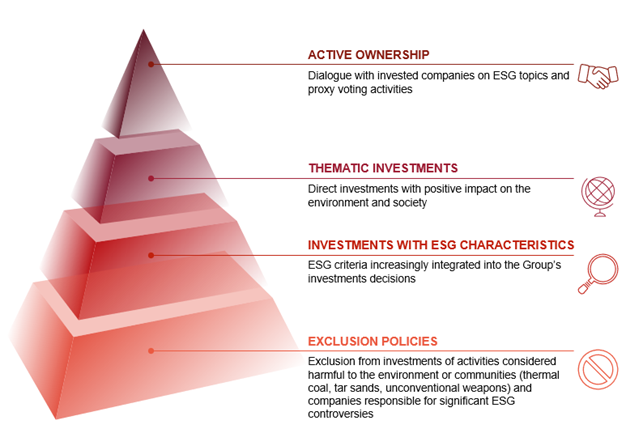 Alongside traditional financial risk/reward analysis techniques, the Group performs targeted screening to examine the sustainability policies, performance, practices and impacts of issuer companies, to avoid investing in companies that do not adhere to our principles.

We have drawn up criteria, systems and approaches to identify, evaluate and monitor investments that are most exposed to environmental, social and governance (ESG) risks. Specifically, the Responsible Investment Group Guideline applies to all direct investments by Group insurance companies.
We consider the following controversies and/or business sectors as relevant in the ESG assessment:
involvement in controversies which potentially infringe the principles of United Nation Global Compact:

companies involved in serious or systematic human rights and/or labour rights violations;

companies involved in severe environmental damages;

companies implicated in cases of gross corruption and bribery.

involvement in controversial business sectors:

unconventional weapons: armament and weapons that violate fundamental humanitarian principles through their normal use (cluster bombs, antipersonnel landmines, nuclear weapons, biological and chemical weapons);

tard sands;

thermal coal.
With specific reference to the thermal coal sector, in 2021 we adopted a new exclusion policy, the objective of which is the gradual but full disposal of any investment in issuers in this sector by 2030 for OECD countries and 2040 for the rest of the world.

The aim of the responsible investment process is to identify ESG risks arising from investments in companies involved in these activities, through ongoing monitoring of the investment universe.

According to their level of involvement and responsibilities in the abovementioned controversies, and based on an internal assessment, the companies are placed on either the Restricted List or the Watch List. The inclusion of a company on the Restricted List brings with it specific actions, including a ban on new investments in the company, the divestment of any equity exposure and the run-off of fixed income exposure. As regards the Watch List, actions range from the close monitoring of controversial aspects to direct engagement with the company in question in order to encourage it to act responsibly.

In 2021:
312,772 mln euro




Direct investment in equities and bonds in accordance with the Responsible Investment Group Guideline
Following the entry into force of Regulation EU 2019/2088 on the transparency of sustainability‐related disclosures in the financial market (Sustainable Finance Disclosure Regulation or SFDR), we assessed the Group's investments to identify those promoting environmental or social characteristics and investing in companies with good governance practices (mandates ex art. 8 SFDR), and those having sustainable investment as their objective (mandates ex art. 9 SFDR).
The assessment was performed both on investments managed for Group insurance companies ("General Account" portfolios" – as Asset Owner) and on investments managed by Group Asset Managers for third party investors.
As of year-end 2021:
as asset owner, € 69.2 billion of mandates ex art. 8/9 SFDR;
as asset manager, € 7.9 billion of investments managed ex art. 8/9 SFDR.
We contemplate in our strategy investments in companies, projects or investment funds aimed at improving the living conditions of the communities in which we operate or at reducing risks and mitigating the effects of climate change, with the overarching aim of generating a positive social and environmental impact, and contributing to the objectives of the United Nations Sustainable Development Goals, while maintaining an adequate financial return.
Green and sustainable investments
In 2019, the Group set a target of € 4.5 billion green and sustainable investments by 2021, with a particular focus on direct investments in corporate and government bonds and in infrastructure; the target was achieved and surpassed one year in advance.

In 2021 the Group renewed its commitment to fund activities that are able to make a positive commitment to the surrounding environment and to society by setting a new target of between € 8.5 and € 9.5 billion of new green and sustainable investments between 2021 and 2025.

With regard to the new 2021-2025 investment plan, the target has been defined with reference to green, social, sustainability and sustainability-linked bond, issued by corporates or governments, that meet the market standard, selected according to an internal methodology (screening), whose main purpose is to assess the robustness of the sustainability framework of these bond issues and the level of transparency towards the market, as well as monitoring the activities that are financed through these investments.

As of year-end 2021, the Group has carried out € 2,537 mln of new green and sustainable investments.

Fenice 190
To contribute repairing the economic and social damage caused by the pandemic, we launched Fenice 190, a € 3.5 billion investment plan to support the recovery of the European economies impacted by Covid-19.

The plan is implemented through the Generali Investments multi-boutique platform that selects international investment funds focusing on infrastructure, innovation and digitalization, SMEs, green housing, health care facilities and education.

The plan aims to generating a positive impact on the economic recovery and the real economy in Europe. More specifically, investments for Fenice 190 have two objectives:
a social objective, aimed at improving the people's life quality, through the support of companies promoting socially responsible labour policies and fairer employment contracts as well as urban redevelopment initiatives of living spaces;
an environmental objective, aimed at energy requalification of existing companies and infrastructures, and pollution emission reduction, in line with European targets.

In 2021, the Group's companies signed € 810 mln of commitments related to investments eligible for Fenice 190.
For the wider purpose of steering the role of the Group as an active owner, we defined a comprehensive Group Active Ownership Framework, regulated by a Group Guideline document.

The Active Ownership Group Guideline – Asset Owner defines the principles, main activities, and responsibilities leading the role of the Group as an active owner. In this role the Group, as a long-term liability-driven institutional investor and assets owner, has a fiduciary duty towards its stakeholders and takes action accordingly by (i) monitoring investee issuer companies, (ii) engaging them on financial and non-financial topics including ESG issues, (iii) voting at general meetings and (iv) exercising the other rights attached to the securities (including rights of action), for the dissemination of best practices in terms of governance, professional ethics, social cohesion, environmental protection, digitalization, and response to market-wide and systemic risks scenarios.

We use dialogue and engagement with issuer companies as an effective lever to influence corporate practice on ESG issues, to encourage further ESG disclosure or to gain enhanced understanding of investees' ESG risk management.

Within the wider Group Active Ownership Framework, the integration of sustainability aspects is also governed by the Group voting principles. We are in favor of supporting proposals at meetings we participate in aimed at disseminating best practices on governance, business ethics, social cohesion and environmental protection.

In 2021, the Group participated in 1,710 Meetings (of which 1,073 related to direct investments of the Group Insurance Companies) and voted on 20,795 resolutions, 12% against, confirming our commitment to support sustainability best practices.