Roots of the present
Activities with various schools continued at Radici del Presente (Roots of the Present), the museum inside our offices in Piazza Venezia, Rome which houses the Roman-Imperial archaeology collection owned by Generali, in a space specifically designed for young people. The collection is made up of 300 artefacts, almost all of which dating to the Roman period from II to V century A.D. with the exception of a particularly valuable Greek relief from the IV century B.C..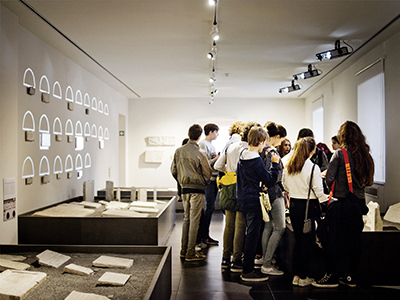 From 2016 free thematic lectures are organised inside the museum aimed at promoting Italy's cultural heritage and bringing young generations closer to the fascinating world of archaeology.
The lectures used a simple and captivating language to focus on the history and culture of Roman civilisation, and were specifically designed for primary school fourth and fifth grades and all lower and upper secondary school grades. Starting from the study of the artefacts in the museum, archaeologists from Federico II University of Naples explained ancient Romans' daily lives and habits, public spaces and funeral rites.
This series of lectures further enhanced visitors' experience during the guided tour of the museum: its innovative, educational approach stimulates direct interaction with the artefacts which are still in the ancient Roman environment they once belonged to. Pupils, accompanied by guides, are encouraged to experience the pleasure of discovery and to stimulate their spirit of observation.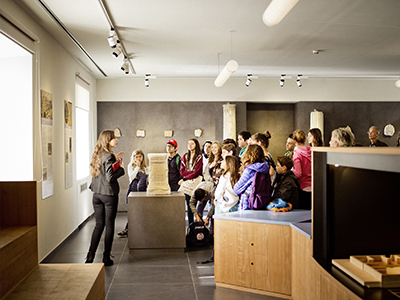 The various rooms allow pupils to explore: the context of the archaeological excavation with the historical stratification of the building block and the urban development of Piazza Venezia; the everyday environments of ancient Rome with the worship of domestic divinities and public spaces; and the underworld. During the visit, pupils collect a fact sheet from every room which explains the ancient context where the artefacts were located, providing them with teaching material that they can further develop in class.
Two educational activities raise much curiosity among visitors: the reconstruction of a model of a Domus, focusing on the theme of domestic religiousness, and the live study of Trajan's Column thanks to a camera moved by a joystick which allows visitors to see and examine in detail the final bands of the epic war narrative.