Palazzo Cini Gallery, Venice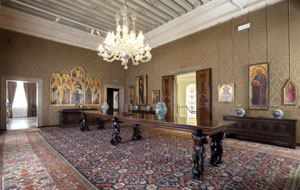 Generali is the main partner to the opening of the Palazzo Cini Gallery in Venice, confirming the secular mission in which it deeply recognises itself: taking care of valuable things.
This historic house-museum was once the home of Count Vittorio Cini, who built an extensive collection of fine art there.
In 1984, his daughter, Yara Cini Alliata di Montereale, donated some of the rooms in the palazzo and a large number of works of art from her father's collection to the Fondazione Cini: 14th, 15th and 16th century paintings from Tuscany and Ferrara, fine sculptures and items of decorative art. The paintings include works of art by Giotto, Guariento, Beato Angelico, Filippo Lippi, Botticelli, Piero di Cosimo, Jacopo Pontormo, Cosmè Tura, Ercole de' Roberti, Ludovico Mazzolino and Dosso Dossi.
However, the Palazzo Cini Gallery was never permanently opened, due to several logistical difficulties. In 2014, to mark the 60th anniversary of the Cini Institute of Art History and the 30th anniversary, to the day, of its first opening, the Palazzo Cini was once again opened permanently.
Our contribution enabled work to take place to reorganise the rooms and improve the lighting, making the exhibition much more accessible without altering the intimate and exclusive atmosphere of the historic house-museum.
The gallery was open to the public from May to November 2014, welcoming over 15,000 visitors, including 370 group employees who enjoyed guided tours. In April 2015, the gallery was open for the second season, offering a new exhibition space on the second floor of the historic house-museum, featuring a "new" selection of ancient works of art and a contemporary art exhibition.