Charte du sport responsable
Generali France published its Charte du Sport Responsable (Responsible Sports Charter) in 2010 and since then has actively promoted a sustainable culture of sport. This broad initiative covers various areas of interest to Generali: social inclusion, equal opportunities, health, risk prevention and protecting the environment.
The charter identifies six core principles for sporting activities that respect others and the environment: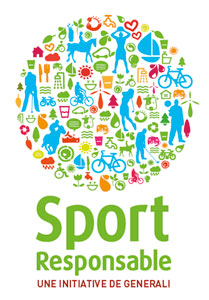 sport must be accessible to everyone, including those with a disability;
male and female teams must have the same visibility and profile;
the health of athletes must be protected, combating dangerous practices (e.g. doping) and fostering initiatives to prevent accidents and injuries;
athletes must be guided and supported in achieving a balance between sporting and academic performance;
the environmental impact related to the use of sports equipment and facilities must be minimised;
the initiative must involve as many sports clubs, athletes, fans and sponsors as possible.
Nine national sporting federations signed up to the charter – volleyball, cycling, football, horse riding,
golf, table tennis, badminton, American football, and triathlon – embracing the values it sets out and promising to spread them throughout their respective disciplines.
The charter is complemented by a website, www.sport-responsable.com, where associations can share and promote best practices. The site also features regularly updated news on sports initiatives, competitions and events, with the overarching aim of presenting sport as a way to spread the values of commitment, respect and solidarity.
Every year, the Responsible Sport Trophy sees a jury of experts award prizes to the most deserving associations in six different categories corresponding to the principles expressed by the charter. The winners are given a grant of between 1,000 and 3,000 euro to support their ongoing projects. At least one of our group's ambassadors attends the evening of the awards ceremony: Zinedine Zidane, Jean-Louis Etienne or Nicolas Lunven.