Ballon de Paris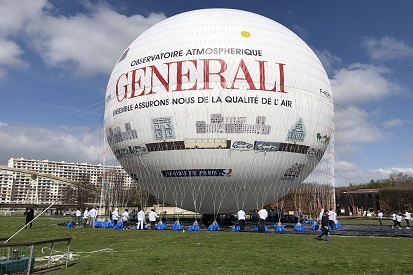 Carried out in association with AIRPARIF (air quality monitoring network) and the CNRS (national centre for scientific research), the Observatoire Atmosphérique project is the first flying urban laboratory, enabling scientists to study air quality precisely at an altitude of 150 metres, in real time, 24 hours a day.
This Generali-branded hot air balloon-laboratory has been gracing the skies above Paris since 2013, and will continue to do so for another three years. Measurements are captured using an instrument developed by the CNRS that is able to pick up even ultrafine particulate matter (PM), the most harmful form of pollution, and provide information on its nature in relation to the altitude. Thanks to a device that collects data and then transmits this to the processing centre at AIRPARIF, those on board can view colourful pictograms of the vehicles and monuments of Paris, which change colour according to the level of air pollution.
An information pavilion completes the educational element of the initiative. School children (a total of about 6,000 per year) can climb on board the hot air balloon and visit the information pavilion for free. For the rest of the day, the hot air balloon is a tourist attraction (with admission fee) that is proving to be very popular with the general public.