Generali partecipa al Mese dell'Educazione Finanziaria in Italia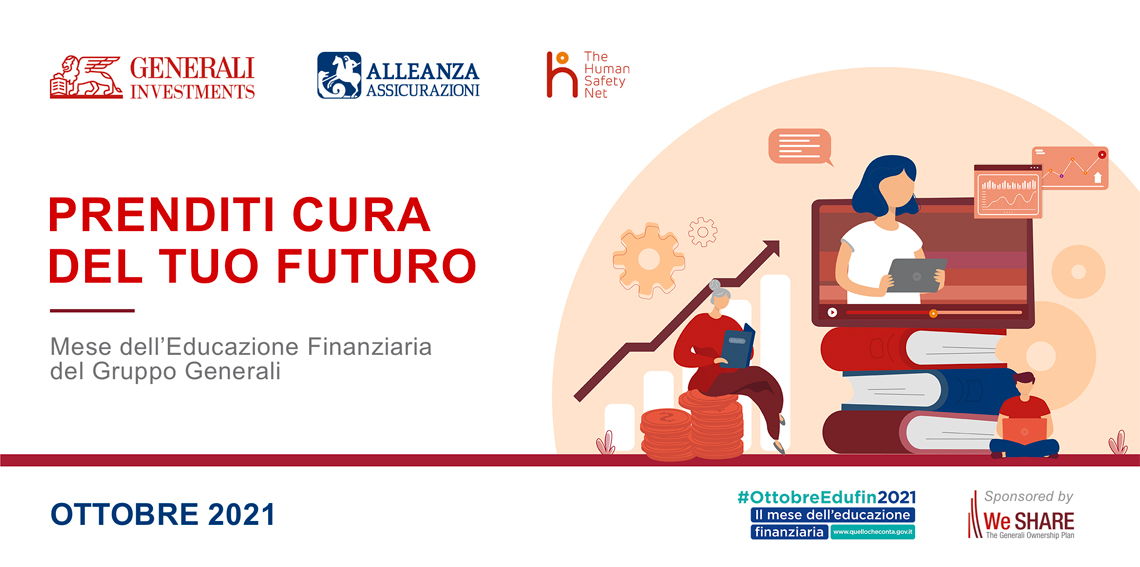 L'INIZIATIVA
Generali con Alleanza, Generali Assets & Wealth Managament e la fondazione The Human Safety Net hanno organizzato un ciclo di diversi incontri con esperti di settore per trovare e condividere spunti, riflessioni e proposte per rafforzare la consapevolezza su temi assicurativi, previdenziali e di gestione finanziaria nella cornice dell'iniziativa del mese dell'Educazione Finanziaria promossa dal Comitato per la programmazione e il coordinamento delle attività di educazione finanziaria.

Un palinsesto che punta alla diffusione della cultura finanziaria rivolto a giovani studenti, famiglie, risparmiatori e a tutti coloro che desiderano saperne di più su temi di educazione finanziaria.
Un confronto aperto, calato nel contesto attuale e che dà suggerimenti su come affrontarlo.

EVENTI IN PROGRAMMA

ALLEANZA ASSICURAZIONI

LA PIANIFICAZIONE è DONNA
La Masterclass di educazione finanziaria per fare scelte consapevoli
La Masterclass prevede tre sessioni online della durata di un'ora in cui verranno trattati, in modo semplice e pratico, i principi fondamentali dell'educazione finanziaria con consigli utili da adottare nella vita di tutti i giorni:


Venerdì 8 ottobre 2021, 18:00
L'economia in famiglia: l'importanza della pianificazione attraverso un bilancio e un budget familiare sostenibile

Con la partecipazione straordinaria di:

Davide Passero, Amministratore Delegato di Alleanza Assicurazioni
Fiona May, Ex atleta olimpica e mamma
Magda Bianco, Responsabile del Dipartimento Tutela della Clientela ed Educazione Finanziaria di Banca d'Italia
Anna Guatri, Responsabile CSR della Fondazione Umberto Veronesi
Claudia Ghinfanti, Responsabile Marketing di Alleanza Assicurazioni
Annalisa Lospinuso, Giornalista economico finanziaria


Venerdì 15 ottobre 2021, 18:00
Diversificazione e relazione rischio-rendimento: dalla gestione sostenibile del risparmio all'investimento per conseguire i propri obiettivi di vita familiare

Venerdì 22 ottobre 2021, 18:00
Assicurazione e previdenza: strumenti di copertura dei rischi e di pianificazione pensionistica
GENERALI ASSET & WEALTH MANAGEMENT

Lunedì 18 ottobre 2021, 17:00
Sistemi pensionistici multipilastro, diritti previdenziali e carriere internazionali

Speaker:
Antonio Salera, Insurance & AM Research

Clicca qui per la Privacy Policy di Generali Assets & Wealth Management



Martedì 19 ottobre 2021, 17:00
Nuovo paradigma dell'investimento previdenziale: Asset Alternativi

Speaker:
Francesco Martorana, Group Chief Investment Officer di Assicurazioni Generali
Leopoldo Della Porta, Portfolio Analyst

Clicca qui per la Privacy Policy di Generali Assets & Wealth Management



Mercoledì 20 ottobre 2021, 17:00
Una società che invecchia: tendenze socio-demografiche e loro conseguenze economiche

Speaker:
Federica Tartara, Insurance & AM Research
Michele Morganti, Equity strategist and Head of Insurance and Asset Management research

Clicca qui per la Privacy Policy di Generali Assets & Wealth Management



Giovedì 28 ottobre 2021 ore 14:00
Soluzioni assicurative sostenibili per neogenitori

Quali coperture scegliere per proteggere il futuro dei propri figli.

Speaker:
Federico Marsich, Group Life & Health
Stefania Clemente, Life Product Governance
Piero Crevatin, Unit-Linked Saving & Pension



Giovedì 28 ottobre 2021 ore 10:00
Financial Education for Parents: How financial literacy can improve the wellbeing of young children

L'evento avrà al centro la presentazione di un rapporto e di una partnership che punta a rafforzare l'educazione finanziaria delle famiglie in Italia e nel mondo. Durante la sessione, i rappresentanti di The Human Safety Net, UNICEF e Aflatoun International dialogheranno assieme approfondendo i risultati di un nuovo studio sul ruolo dell'educazione finanziaria nei programmi per i genitori per favorire lo sviluppo della prima infanzia.

L'evento si terrà in lingua inglese

Speaker:
Emma Ursich, Executive Director The Human Safety Net
Ana-Maria Rodriguez, ECD Specialist ofr the EAP Regional Office UNICEF
Roeland Monasch, CEO Aflatoun International

Moderatore:
Alan Barbieri, Head of Programmes The Human Safety Net