Silvia Olivotto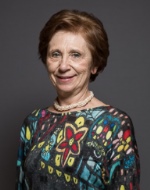 She was born in Varallo (Vercelli, Italy) on 4 September 1950. She is listed in the register of auditors and in the Register of Certified Accountants of Milan, in 1975 she started her professional career as auditor at Arthur Young (today EY S.p.A.). Between 1982 and 1991 she worked as an auditor with the rank of senior manager at CZ Revisione, where in 1991 she reached the rank of managing partner and became responsible for auditing companies, including listed companies, mostly in the industrial and services sectors and of leasing and insurance firms. From 1994 to 2005 she was a partner and worked as auditor at Reconta Ernst & Young S.p.A. (today EY S.p.A.), where from 2002 to 2006 she served as CFO. From June 2005 to 30 October 2006 she was first Managing Director, then Chair of the Board of Directors of Global Shared Services S.r.l. Over the years she has held the position of auditor at various companies.
RELEVANT POSITIONS AS PER ARTICLE 148-BIS TUIF ON THE PLURALITY OF OFFICES
She does not hold any relevant position as per article 148-bis TUIF on the plurality of offices.
FURTHER OFFICES
Chair of the Board of Auditors of Garmin Italia S.p.A. and

Nooter Eriksen S.r.l.

Sole auditor at Expedia Italy S.r.l. and Venere Net S.r.l.
Permanent auditor at Leica Geosystems S.p.A., Resindion S.r.l., Sas Institute S.r.l., Greif Italy S.r.l., Hexagon Geosystems Services S.p.A.,

Amplifin S.p.A. and at Ampliare S.r.l.