Antonia Di Bella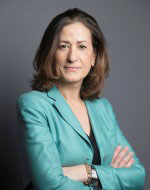 Antonia Di Bella was born in Drapia (Vibo Valentia) on 17 February, 1965. She graduated in Business Economics and Social Sciences at the University of Calabria. She is listed in the register of the Certified Auditors and Accounting Professionals of Milan and in the register of Statutory Auditors.
She is lecturer in Accounting and Management in Insurance at Università Cattolica del Sacro Cuore, Milan.
She has spent her professional career first in the KPMG network, dealing with auditing the financial reports of insurance and reinsurance companies and of firms operating in the financial sector and between October 2007 and July 2015 she was the head of the insurance sector at Mazars S.p.A.
She has held the position of auditor and Chair of the Board of Auditors in other insurance companies and listed firms.
Currently she practices in Milan as an indipendent professional and is of counsel at ADVANT- Nctm.
RELEVANT POSITIONS AS PER ARTICLE 148-BIS TUIF ON THE PLURALITY OF OFFICES
Statutory auditor of Maire Tecnimont S.p.A., ERP Tech S.p.A.,

Primo Ventures SGR,

Nuova Società di Telecomunicazioni S.p.A. and TTPER S.c.a.r.l.
Independent Director of Interpump Group S.p.A.
Chair of the Board of Auditors of BT Enia Telecomunicazioni S.p.A., Atlanet S.p.A., Yolo Group Srl and Merloni Holding S.p.A.
Sole auditor of Yolo Srl
FURTHER OFFICES
Member of the Insurance Technical Committee of the OIC (Organismo Italiano di Contabilità), the Italian accountancy body
Member of the Steering Committee at MIRM, Master in Insurance Risk Management - MIB Trieste
Auditor of

Le dimore del Quartetto - Srl

social enterprise