Ines Mazzilli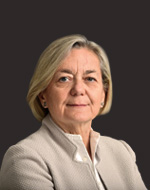 Independent Director
Non-executive Director
Member of the Risk and Control Committee
Member of the Related Party Transactions Committee
Born in Milan on 5 May 1962
CAREER
Ines Mazzilli has been appointed member of the Board of Directors of Assicurazioni Generali on 7 May 2019.
She graduated in Business Administration, major in Finance, from Bocconi University in Milan and she attended a management Course at the INSEAD University in France.
From 1987 to 1993 she worked in senior finance jobs in Elizabeth Arden, being part of Eli Lilly first, and Unilever after. From 1993 to 2016 she worked in Heineken, beginning as Planning & Control Manager for the Italian Operating Company and she was Finance Director from 2001 to 2005. From 2006 to 2010 she was Senior Finance Director of the Western Europe Region, from 2011 to 2015 she has been Senior Finance Director of the Global Business Services and lastly, from 2015 to 2016, she was Senior Director of the Global Finance Processes & Internal Control. From 2016 to 2020 she served as member of the Advisory Council and Senior Advisor (external) for GENPACT. From 2018 to 2021 she served as non-executive and Independent Member of the Board of Directors and chair of the Audit and Risk Committee of Saipem S.p.A.
RELEVANT POSITIONS ACCORDING TO OUR DIRECTORS OVERBOARDING POLICY
Non-executive and Independent Member of the Board of Directors, Member of the Supervisory Committee, chair of the Risk and Control Committee and of the Transactions with Related Parties Committee of Safilo Group S.p.A., as well as member of the Supervisory Committee of its subsidiaries Safilo S.p.A. and Safilo Industrial S.r.l.
OTHER POSITIONS
Member of the Advisory Board of Corso di Laurea Magistrale in Economia e Legislazione d'Impresa, University of Pavia, Italy

For additional info see also the Linkedin profile.