Alberta Figari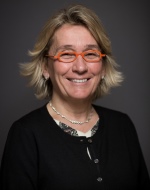 Independent Director
Non-executive Director
Chair of the Risk and Control Committee
Member of the Appointments and Remuneration Committee
Born in Milan on 30 January 1964
Career
Alberta Figari has been a member of the Board of Directors of Assicurazioni Generali since 30 April 2013.
She obtained her law degree from Università degli Studi in Milan in 1988. She obtained a master of laws degree from King's College in London and joined the Milan bar association in 1992. In 1994 she became an associate in the Law firm Clifford Chance, from 1998 became partner and held institutional and leadership roles until March 2021.
Alberta Figari is specialised in M&A, corporate finance and equity capital markets transactions, including IPO, right issues, acquisitions, joint venture and takeovers. She has gained significant experience in domestic and cross-border M&A transactions, having advised leading corporations and financial institutions in their investment plans in Italy. From April 2021 is partner of Legance – Avvocati Associati.
RELEVANT POSITIONS ACCORDING TO OUR DIRECTORS OVERBOARDING POLICY
She does not hold relevant positions according to our Directors Overboarding Policy.

For additional info see also the Linkedin profile.